April 25, 2018
CMS developing direct-pay model to test on seniors, others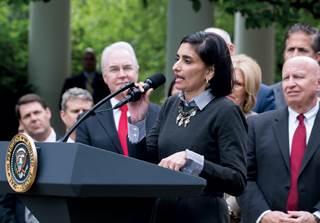 CMS Administrator said the proposed model is best suited for primary care doctors.
The Centers for Medicare & Medicaid Services has announced it is exploring a direct-provider contracting model, the first payment reform initiative to result from the agency innovation center's broad request for ideas on improving patient-centered care.
Loosely outlined, the program would directly pay primary care physicians and multi-specialty group practices that volunteer to test the approach among Medicare fee-for-service, Medicare Advantage and Medicaid beneficiaries. It would replace the existing fee schedule with fixed, lump-sum payments for specified types of care.
"Such a model would have the potential to enhance the doctor-patient relationship by eliminating administrative burden for clinicians and providing increased flexibility to provide the high-quality care that is most appropriate for their patients, thus improving quality while reducing expenditures," CMS said in its announcement Monday.
On a press call Tuesday afternoon, CMS Administrator Seema Verma said her agency envisions the model as a good fit for primary care doctors because they "are best positioned to take on risk."
LeadingAge is holding back judgment on the proposal until its potential reach becomes clearer.
"We look forward to engaging with our members to explore the possibilities and potential effect of direct provider contracting," a spokeswoman told McKnight's Tuesday. "We note that post-acute and long-term care providers are not specifically mentioned, despite their crucial role in healthcare delivery for older Americans."
CMS also proposed changes Tuesday in a prospective payment system for hospitals and long-term care hospitals that includes a revamped focus on interoperability, pricing transparency and penalties if patients can't access their electronic medical records.
When asked whether CMS would soon roll out a program specifically targeting skilled nursing providers as part of this new package of "patient-centered initiatives," Verma said only that she had no announcements to make.
AARP has already come out against the direct-contractor proposal, telling Modern Healthcare that private contracting would allow doctors to pick and choose patients and services.
"(Current) rules prevent doctors from choosing patients based on the severity of their illness or other characteristics or charging different patients different amounts," the association said. "These rules also reduce the likelihood of fraudulent billing, help maintain access to care for Medicare beneficiaries, and protect patients from high out-of-pocket costs."
CMS is seeking detailed comments through May 25.
The agency said it is also pursuing the development of other models based on responses to its earlier request, which focused on decreasing unnecessary cost, increasing physician accountability for patient outcomes, improving patient choice and transparency and treating chronically ill patients.
In more than 4,000 pages of comments, providers and several groups representing them backed recommendations like chronic care management via telehealth and remote monitoring, service coordination in affordable housing, and long-term care financing.
Officials said comments from nearly 1,000 people reflected "broad support" for reducing burdensome requirements and unnecessary regulations. LeadingAge specifically backed a demonstration for telehealth and remote monitoring in patients 60 and over.