March 12, 2014
CMS budget defines nursing home quality targets, requests an additional $50 million for surveys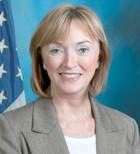 CMS Administrator and Secretary of the Medicare Trustees Marilyn Tavenner
The Centers for Medicare & Medicaid Services' proposed budget for fiscal year 2015 requests additional funds for survey activities and lists the agency's targets for nursing home quality measures.
The $424.4 million request for Medicare survey and certification activities is $49 million more than the 2014 allocation, according to the budget document released Monday. The additional funds are needed due to more providers in the program and "improved CMS standards," the budget states. About 91% of the funding would go toward surveys of long-term care facilities and home health agencies.
Survey costs also are being driven up by CMS' expanded role in "addressing issues of national importance" such as the rates of antipsychotic medication prescribing and pressure ulcers in nursing homes, according to the budget proposal.
As part of this effort, CMS is introducing a new quality measure in fiscal year 2015 related to decreasing the percentage of nursing home residents with dementia who are taking antipsychotic medications, the budget notes. The goal for 2015 is to bring the 20.3% baseline down to 19%. The 2015 goal for the pressure ulcer measure is to bring the prevalence rate down from 6.7% to 6.6%. Both are quality measures that providers have been working to improve, sometimes through collaborations with CMS as well as through initiatives such as Advancing Excellence in America's Nursing Homes.
With survey-related costs increasing, CMS will continue to take steps to make the process more efficient, the budget proposal emphasizes. For example, the agency will weigh nursing homes' sprinkler status and compliance history to determine how much on-site survey time needs to be spent evaluating life safety code compliance.
The budget is meant to provide a blueprint as Congress considers appropriations.
Click here to access the complete 364-page document.