November 19, 2013
CMS allows less-severe citations for nursing homes installing a sprinkler system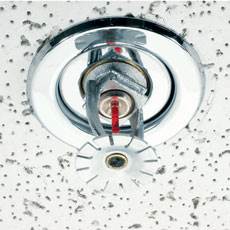 4 hospitalized after nursing home fire, officials praise sprinkler regulation
Nursing homes might be able to reduce the scope and severity of deficiency citations related to sprinkler systems, the Centers for Medicare & Medicaid Services recently announced.
Under CMS regulations, all nursing homes were required to have a full, automatic sprinkler system as of August 13. Those not meeting this requirement have been subject to deficiency citations with scope and severity of D, E or F, according to an Aug. 16 memo.
However, some facilities that are in the process of sprinkler installation have undertaken "extraordinary protective actions" to ensure the safety of residents, CMS noted in a revision to the August memo, released Friday. These facilities can request a revisit survey and might have the scope and severity of their citation reduced to C-level, if they meet CMS' criteria.
The memo enumerates 10 protections that all must be in place to qualify a facility for the reduced deficiency. Alternately, a facility that has entirely vacated residents from areas without a sprinkler system might qualify. CMS notes that a deficiency citation will remain until a full sprinkler system is installed, and that a reduction in scope and severity might not mean civil monetary penalties are precluded.
In a separate memo, CMS clarified that no-payment bills are required for Medicare beneficiaries who received skilled care, dropped to non-covered status, and continue to reside in a certified area of the facility. They are not required if the beneficiary was admitted for non-skilled care.