March 01, 2010
Clean up the waste: cost savings through cleaner facilities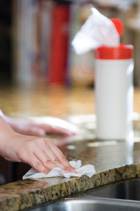 Clean up the waste: cost savings through cleaner facilities

In these days of rising care costs and dwindling reimbursement, it's more critical than ever that long-term care operators strive for greater operational efficiencies—especially in known cost centers, such as laundry and housekeeping. Labor accounts for roughly half of these departments' budgets, and even the most seemingly benign mistakes can wind up costing the facility dearly."Many times, these departments operate with a minimal staff that is responsible for some of the most important resident services," explains Michael Dyer, director of environmental services for Jewish Home Lifecare's Manhattan campus. "If they don't run [optimally], that's going to cost the facility a lot of money, and even more importantly it can have harmful effects on the residents."


Indeed, turning a keen eye to current practices and making the departments' daily contributions a key part of the facility's quality assurance initiatives will pay big dividends in terms of competitive advantage, resident satisfaction and —in the realm of housekeeping, especially—infection prevention.

"One of the most important issues in long-term care is [determining] how to stop the spread of infection," says Brad Reynolds, senior category manager for Kimberly-Clark Professional, Roswell, GA. "Contaminated environmental surfaces must be cleaned properly because they can serve as a reservoir for infectious microorganisms."


In fact, research from New York-based Committee to Reduce Infection Deaths shows that nearly three-quarters of rooms in the healthcare setting are contaminated with MRSA and VRE, with the bacteria often invading cabinets, countertops, bedrails, bedside tables, call buttons, telephones and other surfaces.

Aim to be green


Fortunately, simple changes to housekeeping practices can have a big impact. Experts agree that when it comes to environmental services, quality and consistency reign supreme. Dyer, an environmental services veteran of 31 years, credits much of his department's success to weekly team meetings and some "tried and true" cleaning methods that help ensure that corners aren't cut and that every room—and resident—receives the same level of care and attention.

"Dirt is not 'just dirt' and even a room that appears clean can be contaminated," Dyer explains. "I developed specific steps that take [staff] from Point A to Point Z. This helps ensure that every [employee] on every shift is doing the same things, in the exact same order, each time they enter a room. Through financial metrics, we have been able to see a reduction in the amount of time needed to clean each room while at the same time increasing quality."


Dyer's formula is simple, yet successful: Using broad-spectrum, eco-friendly cleaning products that are effective against various microorganisms and bodily fluids, housekeeping staff start at Point A, which is the farthest distance in the room, and begin to clean by dusting—starting high and working toward the floor.

Vertical surfaces, such as window blinds, are cleaned, followed by bed rails, headboards and mattresses (paying close attention to even the underside of the mattress—an oft-overlooked surface known to accumulate dirt.)


"Items at eye level, such as dressers and TVs, come next, followed by the bathroom," Dyer notes. Because bathrooms are hot spots for bacterial contamination, he instructs his staff to begin by wiping down the mirror and medicine cabinet, disinfecting the sink, emptying trash and cleaning the trash can inside and out.

Finally, they move to the toilet—first wiping the seat, flush handle and other surfaces (including grab rails and the underside of the bowl, and the base where the toilet meets the floor) with a disinfectant, and then scrubbing the inside of the bowl.


"The last step when cleaning a room should be the floor, and the bathroom floor should be last." Again, in both the living space and the bathroom, it's important to start at the farthest corner of the room and work your way to the front, according to Dyer, who stresses that staff must replace the water in the mop bucket between resident rooms to avoid cross-contamination.

"If you don't have a set plan when you go in to clean a room, it will either take more time to clean or lead to missed steps and other mistakes. Either way, that's going to be bad news."


Kicking the bucket

One trend that's gaining traction is the shift away from traditional "rag and bucket" cleaning, which has been shown to contribute to surface cross-contamination. Some systems feature a roll of dry, multi-purpose wipes inside a lidded dispenser that can then be saturated with the right chemical mixture for the task (such as quaternary disinfectants, alcohol or bleach). The lid snaps on and the wipes are individually dispensed through the enclosed container system, and then disposed of after each task.


"Not buying pre-saturated wipes keeps costs down and, overall, we see customers using less chemical," Reynolds says.

Jewish Home Lifecare prefers disposable wipes because they're easier to use than a wet rag and bucket, but mostly because they help ensure that cloths won't be reused between resident rooms.

"From an ease of use and infection control perspective, they're a smart [investment]," he says.


The same can be said for microfiber. Although switching to a microfiber cleaning system involves an initial capital outlay that some long-term care operators may consider cost-prohibitive, studies show that microfiber cloths and mop heads can quickly pay for themselves in reduced chemical consumption and improved, expedited cleaning.

"Microfiber has come a long way," says Kevin Mast, environmental services segment manager, Direct Supply Equipment and Furnishings. "Fibers can pick up viruses and bacteria and [eradicate] them with minimal chemical and water."


Microfiber also can be laundered. Most vendors tout as many as 500 washings and up to 200 washings with bleach (although the cloths should be air-dried to avoid fiber damage and premature replacement). Color-coded cloths, mop pads, buckets and containers also are available, helping to streamline efficiencies and prevent cross-contamination. For example, yellow can be limited only to toilets, green for general purpose cleaning and red for beds.

"[Beds] are a major source for C. difficile transmittal, so it's important to isolate them," notes Mark Hoyle, team leader for hard surface cleaning at Rubbermaid Commercial Products.
Wring out more savings


Like housekeeping, laundry operations are often rife with inefficiencies. Focusing on labor and linen costs—on-premise laundry's largest expenses—will garner the most return.

"If management focuses on these two cost centers first, they will quickly harvest the low-hanging fruit," assures Terry Satchwell, vice president of strategic accounts, Pellerin Milnor Corp.


Failure to maximize existing laundry equipment is among long-term care operators' top mistakes. Many are neither programming their equipment properly nor using the right cycles (washing sheets in a towel cycle, for example). This can contribute to longer cycles, excessive chemical and utility consumption, and damage to linens, laundry experts note. Operators also may fail to understand that a manufacturer's product claims and cycle recommendations might not translate to long-term care applications.

"There are water savings to be had by cutting out a rinse, for example. However, a chemical company representative likely would not employ this strategy in programming the machine in a long-term care environment, as one rinse is insufficient for fully rinsing chemicals," stresses Randy Radtke, spokesman for Alliance Laundry Systems/UniMac, Ripon, WI. Residual chemicals not only could shorten the linen's life by 50%, but also contribute to skin breakdown, he says.


"It's better to use a washer-extractor that has lower out-of-the-box water consumption and then make small tweaks to fill levels," he reasons.

Chemical dilution systems, many of which are offered by chemical companies at no charge or for a nominal fee, present another oft-missed savings opportunity. These systems attach directly onto the laundry equipment, with the pre-programmed amount of chemical automatically drawn into the washer.


"You don't want to have staff eyeballing chemicals because, more often than not, they're going to use way more than what's needed," Mast says.

Not running equipment at full capacity is another common and costly mistake. Because short loads waste utilities and chemicals, and kill efficiency by increasing the number of loads, Satchwell suggests operating equipment only after at least two hours of soiled laundry has accumulated.


Teaching staff what constitutes a full load is also critical. Here's a good rule of thumb: Load the washer to the point where a football could slide on top with minimal effort but without much room for movement.

"If there's more room than that, it's under-loaded. If you have to cram it in, it's too full," emphasizes Steve Hietpas, national sales manager, Maytag/Whirlpool Commercial Laundry.


Over-drying also costs operators much more than they probably realized. Hietpas says many still use inefficient manual timer dryers, as opposed to those with microprocessor controls that sense when loads are dry.

But, even dryers with microprocessors won't be efficient if staff aren't choosing the right cycle for each load.
Using washer-extractors with a high G-force will cut dry time substantially. "Spinning more water out in the washer instead of burning it out in the dryer [is best]," he continues. "Heat breaks down linens."


Education essential

Even the best policies, procedures, products and equipment will mean little in the absence of ongoing training and supervision from a skilled, quality-focused manager. Unfortunately, many long-term care facilities fall short, according to Jim Keeley, vice president of corporate compliance, Healthcare Services Group Inc.


One cost-effective, yet under-utilized training approach is sending staff to local, state or national professional association meetings, such as those offered by the American Society for Healthcare Environmental Services. Keeley, who speaks regularly at various association meetings, said these educational sessions are typically not well attended by long-term care environmental services professionals.

"It's a shame how many administrators don't want to spend the money on these meetings and other training for their frontline staff," he says. "When they do attend, they're like sponges and they come away with so much useful information. If I could tell administrators one thing, it's that dollars spent on training and education will be the best dollars they'll spend."


Vendor training also is essential for ensuring that operators maximize their equipment and product investment, and make the most of labor hours. Many vendors offer free hands-on training, as well as instructional DVDs and other resources, to improve consistency and quality, and help with orientation.

The value of quality assurance programs cannot be overestimated, either. Well-trained workers perform and feel better about what they do.