August 25, 2011
CLASS implementation likely delayed by one year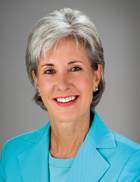 HHS Secretary Kathleen Sebelius
A Congressional Budget Office update issued Wednesday indicates there will be a one-year delay in the implementation of the Affordable Care Act's long-term care insurance plan.
According to the CBO report, the Community Living Assistance Services and Supports program, or CLASS Act, which was expected to start collecting premiums in 2012, is now facing a 2013 start date.
"Based on the pace of implementation actions thus far, CBO now estimates that the program will begin collecting premiums in fiscal year 2013, lowering projected offsetting receipts (whereas, for the March baseline, CBO assumed that those collections would begin in fiscal year 2012)," the report states.
The controversial program — which has raised doubt among legislators and been a target for deficit reduction negotiations — is a federally backed LTC insurance option for elderly and disabled individuals. Health and Human Services Secretary Kathleen Sebelius has told Congress that the department would not implement the plan until it is adequately modeled to be financially solvent for at least 75 years.