November 12, 2009
CLASS Act would not increase federal deficit, AAHSA's Manard asserts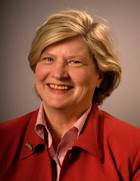 LeadingAge VP Barbara Manard
Barbara Manard, vice president of the American Association of Homes and Services for the Aging, Wednesday countered criticism that the CLASS Act would contribute to the federal deficit.
That is "a misunderstanding about how the federal budget works," she told McKnight's during AAHSA's annual conference in Chicago. The conference ended on Wednesday.
Several senators last month sent a letter to Senate Majority Leader Harry Reid (D-NV) asking him to keep the CLASS Act provision out of the healthcare reform bill because requests for benefits would exceed revenue generated through the program. Under the program, workers would contribute a portion of their paychecks to a federal trust. They would then be able to draw from the trust if they became disabled. The program would help to defray Medicaid costs and allow people to receive care in their homes. It is not yet clear whether it will appear in the Senate's version of healthcare reform.
Manard argued that the CLASS Act, which stands for the Community Living Services and Support Act, has been proven to be actuarially sound. Premiums and earned interest would finance it over the long haul, similar to the national flood control insurance program, she said. She disagreed that it would increase the deficit—that it would draw more money out of the federal budget than it would pay into it. 
"What the main thing is to understand is that the bank account for the CLASS Act never runs out of money," she said.