November 01, 2014
CDC renews call for pneumococcal shots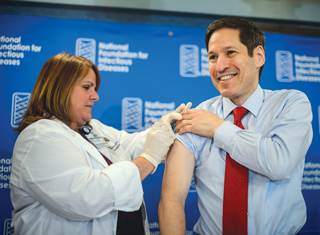 CDC Director Tom Frieden, M.D., received his flu shot in mid-September.
Seniors should receive the pneumococcal conjugate vaccine, the Centers for Disease Control and Prevention has recommended.
Pneumococcal bacteria causes a severe type of pneumonia, as well as meningitis and other infections. Those over age 65 should first receive one dose of pneumococcal conjugate vaccine and then one dose of pneumococcal polysaccharide vaccine, ideally six to 12 months later, the CDC said.
The agency also released a report showing that long-term care workers continued to lag behind other types of healthcare professionals for flu vaccination in 2013.
When it came to vaccination against influenza, long-term care workers had a 63% rate for the last two years running, the CDC reported. This is compared to a 92% overall vaccination rate for physicians and nurses last year.
The lower long-term care rate could partially be due to stricter vaccine requirements in hospitals, as well as long-term care's high percentage of assistants and aides. That group had the lowest vaccination percentage among all types of healthcare workers.