May 13, 2010
CBO: Discretionary spending in health reform law could reach $115 billion over a decade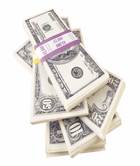 Deficit-reduction plan to gain $600 billion from lower provider payments and higher beneficiary prem
Discretionary spending resulting from the recently passed healthcare reform law could total $115 billion over 10 years, according to a new analysis from the Congressional Budget Office. That includes around $100 million for long-term care and elder abuse programs.
The healthcare reform law authorizes Congress to allocate money for certain grants projects, which would qualify as discretionary spending. Some administrative costs of implementing the reforms also would meet the definition. These costs add up to an estimated $115 billion over the next decade, according to the CBO. The agency did not include this spending in its original estimate, which projected the plan would cost $940 billion and decrease the federal deficit by $138 billion over 10 years. Discretionary funding is funded through the annual appropriations process.
Some of the discretionary spending measures in the healthcare reform law include $68 million for "enhancement of [long-term care]," and $26 million to establish elder abuse, neglect and exploitation forensic centers. It also calls for unspecified amounts of spending on healthy aging programs and demonstration projects focusing on culture change and healthcare IT implementation in nursing homes.
The CBO noted that the $115 billion is subject to future congressional appropriations actions, which could result in greater or smaller costs than the report estimates, and that all the funding would have to be approved by Congress before it is disbursed. The Senate in April approved a measure that would freeze all non-security related discretionary spending until at least 2013. (McKnight's, 4/23/10) Funding for these programs would have to be offset by savings in other areas of the discretionary spending budget, at least during that time period.