November 14, 2008
Capped payments for those who qualify for both Medicare and Medicaid could reduce costs, study says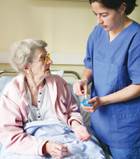 Capped payments for those who qualify for both Medicare and Medicaid could reduce costs, study says

States should be allowed to mandate enrollment of dual-eligibles in managed care facilities with a capitation payment model, according to a new report from the Association for Community Affiliated Plans (ACAP). Such a move would save money on, and provide better care for, such residents, who qualify for both Medicare and Medicaid.

Capitated rates for dual-eligibles would reduce nursing home, pharmacy and acute care costs by up to 4.7%, or $300 billion over the next 15 years, say report authors.

Under a capitation model, a facility is paid based on the number of patients it serves. Coordinating the care and payment for dual-eligibles in these facilities would allow states to improve health outcomes for the group, while at the same time saving significant amounts of Medicare and Medicaid funds, report authors say.

The nation's 7.5 million dual-eligibles currently account for 40% of Medicaid spending and 25% of Medicare spending. Reducing that financial strain through mandatory enrollment programs would require federal legislation, which ACAP advocates. The report was released Wednesday and written by the Lewin Group on behalf of ACAP.