July 12, 2015
Bundled payments for hip, knee replacements would put pressure on SNFs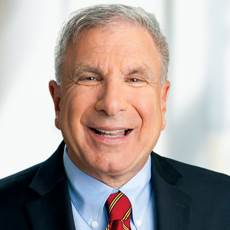 David Friend
The Centers for Medicare & Medicaid Services plan to test bundled payments for hip and knee replacements could spell trouble for skilled nursing facilities, experts warn.
The proposed five-year test would require most hospitals in 75 geographic areas, including New York and Los Angeles, to participate in bundling payments for hip and knee replacements. These joint replacements are the most common inpatient surgeries among Medicare beneficiaries.
The proposed bundle would begin with hospital admission and last 90 days after discharge. All financial risk for the surgery, inpatient stay and care following discharge would be placed on hospitals, an update that experts say could weed out 1- and 2-star skilled nursing facilities from "favored" referral lists.
"If you are a hospital and you have to bundle, and you now have a supplier you are utterly dependent on, you're not going to send [patients] to a 1 or 2 star facility," David Friend, M.D., MBA, consulting managing director at The BDO Center for Healthcare Excellence told McKnight's on Friday. "The cost of screwing that up is not just a hospitalization penalty. You have to redo the whole case. If you're a hospital, you have to have a quality rehabilitation partner."
Friend estimates that the new emphasis on hospital accountability could cause 25% of 1- and 2- star SNFs to close over the next five years. Meanwhile, more medically advanced facilities that can handle bundles with a high quality of care could flourish.
"For skilled nursing facilities in particular I think they will see hospitals narrow their networks, choose partners more deliberately and hold those partners to expectations on quality and financial outcomes," Avalere Vice President Brian Fuller said Friday to McKnight's.
Fuller also noted the "monumental" fact that the test will mark the first mandatory bundled payment model for hospitals.
"The voluntary state that we've been in, while it has been helpful to move the industry along, I think CMS recognizes that there's some selection bias that's inherent in voluntary participation," Fuller said. "Once you get to bundled payment, it really does prompt skill set and competencies that are different than what providers have been accustomed to. The operational readiness component of this is going to be significant."
The proposed bundling model is open for comments until Sept. 8, 2015.