November 23, 2011
Berwick to resign as CMS chief, will be replaced by deputy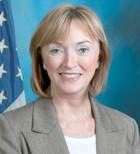 CMS Administrator and Secretary of the Medicare Trustees Marilyn Tavenner

Donald Berwick, M.D., administrator for the Centers for Medicare & Medicaid Services, is stepping down and will be replaced by his principal deputy Marilyn Tavenner, officials confirmed Wednesday.

Observers have long expected Berwick's resignation from his position since 42 Senate Republicans said they would not vote to confirm him. A senior congressional official confirmed Berwick's Dec. 2 resignation to the Associated Press ahead of the Obama administration's announcement.

Obama appointed Berwick during a congressional recess in July of 2010 in an effort to avoid lengthy confirmation hearings and Republican opposition to Berwick's nomination. The 2010 appointment was only allowed to last until the end of 2011.

Sen. Max Baucus (D-MT), who would have presided over the Senate hearings, admitted in March that Berwick would not likely be confirmed.



Prior to his CMS appointment, Berwick was a pediatrician and a Harvard professor. He raised the ire of congressional Republicans for his support of the Affordable Care Act amid accusations that he advocated for "healthcare rationing." However, he's also received support for his focus on improving care for beneficiaries and lowering costs through efficiency. Click here to see an October interview with Berwick.

Cheryl Phillips, vice president of advocacy for LeadingAge, told McKnight's that Berwick's "leadership has brought a heightened focus on patient safety and a broader look at the true experience of care across the continuum," Phillips said. "We appreciated his recognition of the importance of post-actue care and its impact on the overall healthcare system and on the lives of the people we serve."

Tavenner, the former Virginia Secretary of Health and Human Resources, is expected to be confirmed by the Senate. She is a past president of the Virginia Hospital Association, and earned a degree in nursing and a master's in health administration from Virginia Commonwealth University.

Cynthia Morton, executive vice president of the National Association for the Support of Long Term Care, told McKnight's that she welcomes Tavenner's nomination.

"Her background as a provider provides a unique perspective. She already has been a key player on issues of importance to NASL and we look forward to working further with her," Morton said.