January 06, 2017
Back to you, LaVern ...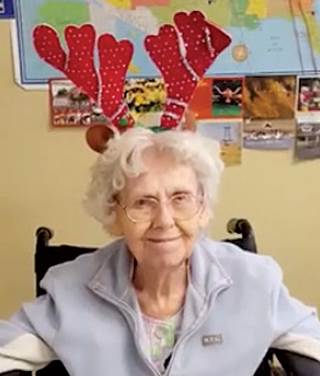 LaVern in a Christmas-themed weather report
Just about every morning, LaVern Withrow reports the weather and sends well wishes to hundreds of people. And she does it all without leaving Valley Oaks Care Center in East Liverpool, OH.
The weather reports were the idea of Traci McCoy, activity director at Valley Oaks, as a way to bring more visitors to the skilled nursing facility's Facebook page.
Each weekday an employee gives Withrow the forecasted high and low temperatures and lets the spunky 94-year-old fill the rest of the report with whatever pops into her mind, be it positive reviews for the facility's staff or a spontaneous Shirley Temple sing-along.
"They like to hear cheerful things. Who wants to spread bad news?" Withrow says. "I always encourage them to keep on the sunny side of life."
McCoy says the reports, which the facility began posting in September, have brought in as many as 3,600 views. Since then, Withrow has reported from an elementary school, and won a "Hometown Hero" award from a local news station.
Withrow says she enjoys being spontaneous and spreading good news through her reports, but she doesn't pay too much attention to her newfound internet fame.
"I'm just cruising along with the tide," Withrow says. "I'm just proud to be here."