March 13, 2009
Average per-bed prices for skilled nursing, assisted living facilities sink in 2008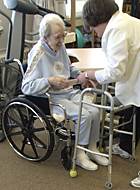 MedPAC recommends reforming Medicare payment system for skilled nursing facilities

After hitting record prices in 2007, the average price paid per bed for skilled nursing facilities fell by 18% to $45,500 in 2008, a new report by Irving Levin Associates Inc. found.

The drop was largely attributed to less attractive and less profitable skilled nursing facilities available in the market for sale, according to The Senior Acquisition report. As the economy slipped, companies were not willing to sell higher-quality properties at lower prices, said Stephen M. Monroe, editor of the report.

Meanwhile, in the assisted living market, the average price paid fell by 21% in 2008 to $124,900 per unit. The volume of transactions declined significantly and the overall quality of the communities sold was lower than the record high in 2007. The average price per unit in the independent living market plummeted more than 30% from 2007's record level to just $118,100 per unit in 2008, according to the report.