May 04, 2016
An uplifting experience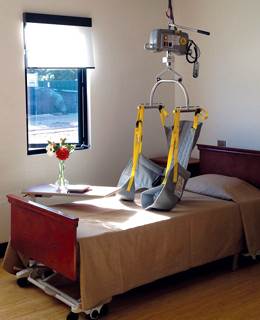 Providers eyeing new ceiling-mounted lift systems should consider that some require walls and floors to be modified or reinforced to handle the additional weight. The costs of those projects can quick
Facilities looking to upgrade or completely revamp bathing areas currently are blessed with the broadest and most technologically advanced systems and devices the market has ever offered.
But the process involves the intersection of many things, from privacy and safety to costs that can easily spiral out of control for uninformed or misguided operators.
Roll-in showers remain a popular bathing method in nursing homes simply because they are less time consuming and more easily accessible. But new styles of tubs allow residents to enjoy the therapeutic benefits of bathing, even spa-like amenities such as whirlpool jets, thanks to safety features and specially designed mobile or wall- or ceiling-mounted lift systems.
Operators also should understand that certain units won't fit through hallways or doorways without tearing down walls or door frames. In some instances, walls and floors may need to be reinforced or modified to handle the additional weight from lifts or tubs.
They also might be surprised by how quickly project costs rise, says Rhonda Bonecutter, the founder and CEO of Homeability.com.
She reviews 18 styles of tubs — from walk-ins and slide-ins with swinging access doors, to full-size floor-level tubs with doors that pull up or slide sideways or down. Many offer various kinds of seats that are either fixed or slide to allow easy transfer.
The list of available accoutrements and add-ons is nearly endless — from whirlpool jets, seat warmers, warm air blowers, privacy curtains, time-saving rapid fill and empty valves and drains, water purification systems, and more. Much of the same applies to shower tech innovations, which include fixed and adjustable seating options and lifts.
Some units could require plumbing modifications and large-capacity boilers (and attendant higher utility bills), or special inline water heaters on jetted tubs, she adds.
Mind the small stuff
Therefore, before taking the plunge in a new bathing system, the following tips from leading manufacturer executives should be heeded.
• Match equipment to your residents' acuity.
"Facilities shouldn't purchase a spa to meet a requirement," says Lee Penner, president of Penner Patient Care. "Too many times something is purchased and never used because it doesn't fit the needs of the residents."
• Keep your future patient mix in mind, as well as the current population.
"Facilities need to understand the profile of their current resident mix, and what it will look like in five to eight years," says David Anderson, national sales manager for Apollo Bathing Systems. "Too often, acuity levels change as residents age in place, and the spa that once was a good fit soon becomes unusable."
• Add up the potential costs.
This is especially true if there are structural issues that would preclude installation without a modification or repair. Ask the vendor what additional items will be needed with a chosen model, such as larger boilers, extra drains or plumbing modifications. Additionally, older facilities typically have ½-inch water lines, which may need to be replaced with newer ¾-inch lines.
"Sometimes if you open a wall or floor, you'll find other problems, so there's typically other construction costs that need to be figured in," adds Craig Coogan, president of Lift and Transfer Specialists.
• Consider accessibility demands.
Walk-in and slide-in tubs can eat up real estate, so be mindful of the need for clearances that will allow caregivers to easily reach or transfer bathers and for wheelchairs to maneuver without mishaps. Anderson says because so many units are modular, buyers can start out small and add on features later.
• Visualize your space.
This includes understanding what your space requirements and structural weight tolerances are. Now would be a good time to enlist the services of an architect, structural engineer or interior designer. Doing so could lead to creative solutions, says Greg Wells, director of marketing and communications for Bestbath.
"We recently had a customer that chose to eliminate a linen closet and turn that space into a walk-in tub bathing area," Wells says. "The elimination of the closet allowed them to retain the shower, but expand their bathing options to include a walk-in tub. In this case, the closet was adjacent to the bathroom, so it required a plumber and electrician to do some simple, quick work."
Some companies like Pressalit provide a space requirement assessment, so make sure to ask for one, adds Gary David Nowitz, president of Pressalit Care-North America.
• A general contractor will usually suffice.
In many cases, a contractor can easily install and do any required modifications to walls, floors and plumbing.
"When replacing a traditional tub-shower with a barrier-free or low-threshold shower, there is no need to move plumbing lines," says Wells. Bestbath, for example, offers configurations that don't require costly drain relocations, he adds.
• If adding a roll-in shower, Coogan advises operators have their contractor tilt the floors toward the drain "so it's fully accessible to rolling in a chair or if they want to leave a dedicated shower chair in there with a track that gets them from their bed."
• Measure twice, cut once.
"Bestbath accessible tubs do not require any structural changes be made to the bathroom," says Wells, who advises a pre-inspection. Most vendors, including his company, offer showers and tubs designed to fit in standard framing pockets. Moreover, low-threshold shower pans are designed to fit right over a sub-floor without a need for cutting, he adds. Nevertheless, Bonecutter cautions buyers to confirm a tub's dimensions prior to ordering the unit. If anything, an accurate measurement will ensure that the tub will be able to pass through the narrowest point in the facility.
• Insist on staff training.
This is particularly true with tub and lift systems. As Anderson notes, buyers should insist that vendor-provided training take place after the sale.
• Leave no resident safety issue unexplored.
It's wise to invest in grab bars and anti-slip mats, as well as anti-scald devices and temperature controls in tubs, Wells advises. It's easy to overlook how vulnerable frail elderly are to even the smallest heat fluctuations. Eliminate barriers in showers. Consider all the touch points in the bathing process.
As Coogan aptly observes: "The least number of transfers that can be accomplished, the better because it can save a lot of injuries to caregivers."
New bathing tech
Nothing has inspired innovation in institutional bathing products more than ensuring that seniors of all acuity levels get in and out of tubs and showers without falling or tripping.
There also are dozens of kinds of mobile, fixed, adjustable, wall- and ceiling-mounted lift systems now available. These help safely transfer residents from bed to rolling shower chairs or wheelchairs, and also lower and raise them in and out of new generations of tubs. Some ceiling-mounted track systems can easily transfer residents from bed to chair to bath to shower/tub and back with very little caregiver effort.
Before upgrading bathing areas or investing in special tubs and tracking systems, experts such as Bonecutter, a career occupational therapist, try to educate buyers about some of the potential negatives with walk-in tubs, which have been aggressively marketed to consumers. (Anderson emphasizes that healthcare bathing systems or spas "should not be compared to the step-in systems designed for home use.")
Other concerns are resident comfort and safety.
If your facility has very few residents capable of walking unassisted, walk-in tubs may not be ideal because they consume valuable staff time ensuring they enter and exit safely, according to Bonecutter. The additional volume of water and access points also could pose serious risks.
"A lot of falls occur inside nursing home bathrooms. Some are horrific," acknowledges Christine Dunster, the clinical director at Next Health who worked for many years as a nurse and nursing home administrator.
Bonecutter suggests slide-in tubs as a better option for high-acuity residents who require help transferring.
Realize, walk-in tubs also can leave residents cold and wet because they need to be in the tub before it fills and while it empties. This also can pose safety and labor-intensive staff issues.