October 26, 2010
Americans face retirement savings deficits of nearly $48,000 per person, on average, nonprofit group finds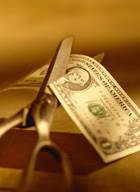 Automatic 2% Medicare cuts begin
A nonpartisan group estimates that the average retirement savings shortfall is $47,732 per person, or $4.6 trillion nationally.
Home-health care and nursing home costs can double both figures. Meanwhile, the elimination of Social Security benefits could drive those estimates to $89,000 per individual, or $8.5 trillion nationally, according to the Employee Benefit Research Institute. The institute used its own Retirement Security Projection Model to estimate the deficits at age 65 for three categories of workers: early boomers, late boomers and Generation Xers, according to ConsumerAffairs.com.
The totals vary by age, gender and marital status, but the values are based on 2010 dollars and for individuals who are 65. EBRI researchers said the numbers help individuals and care providers quantify the cost impact of home-health care and nursing homes on people in retirement.