December 05, 2013
AHCA members near antipsychotics usage goal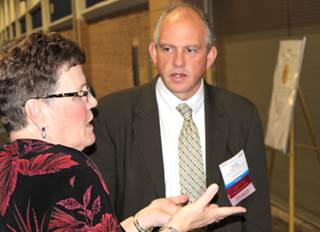 David Gifford, M.D., of AHCA, has led antipsychotic reduction efforts
The AHCA Quality Initiative goal to reduce antipsychotics use is in sight, the group announced Wednesday. Members of the American Health Care Association reached a 13% decline through the second quarter of 2013, according to an association statement. The goal is 15% by the end of this month. The group used federal data in its calculations.
The reduction means an estimated 19,600 residents have been weaned from the medications, AHCA officials said. Approximately 3,600 ACHA members (more than 47% of those that reported data) have already reached the goal.
The AHCA results outpaced the 11.4% drop posted by skilled nursing centers nationally, the association said.
The nation's next-largest nursing home association, LeadingAge, does not track numbers or have members self-report data to it, said Cheryl Phillips, M.D., senior vice president of public policy and advocacy. She said, however, that many "best practices" examples the Centers for Medicare & Medicaid Services is touting emanate from LeadingAge members.
AHCA and LeadingAge account for about two-thirds of the nation's nursing facilities, with the remainder not affiliated with either group, Phillips said.
AHCA officials said their affiliated facilities slightly outpaced the national average in the number of residents treated with antipsychotics. The AHCA's 20.7% reduction is 0.2% less than the national average.
In addition, AHCA members are equal with the 3.3% national rating for reduction of hospital readmissions since 2011. AHCA members are 0.1 percentage point above the national average of 17.6% of patients readmitted within 30 days of a skilled nursing stay.
A total of 2,128 facilities — almost one-third of AHCA members — have achieved the organization's three-year goal of reducing readmissions by 15%. The change means that approximately 24,500 patients have not needed to re-enter the hospital, AHCA officials said. The improvement has generated approximately $250 million in savings to the healthcare system, they estimated.