September 08, 2011
AHCA director of government relations Franklin dies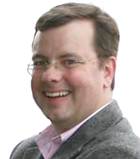 Reed Franklin
Reed Franklin, an American Health Care Association lobbyist, has died at the age of 45, an association spokesman said Wednesday.
Franklin was the director of government relations for AHCA since 2009 and was the lead staffer on important issues such as therapy cap legislation. He is believed to have died of natural causes.
"If you had the good fortune of working with Reed, you know he was a man of integrity and good cheer, one with true passion for our community of providers," said AHCA President Mark Parkinson. "Reed was both a valued colleague and a member of our family."
A native of Virginia and a graduate of Bridgewater College, Franklin arrived on Capitol Hill in 1988, where he worked for moderate Democrats for eight years. Before AHCA, he was a senior director of public policy for the American Telemedicine Association.
Jonathan D. Linkous, ATA's Chief Executive Officer, was not only Franklin's supervisor, but also a friend. They were supposed to go to a baseball game today.
"He raised our visibility and capability in Washington, and he was a great individual," Linkous said.
A wine connoisseur, Franklin occasionally led wine tastings at D.C.-area establishments, Linkous said. The son of a minister and self-described "Preacher's Kid," Franklin was active in the Disciples of Christ church. Funeral arrangements are pending.