November 11, 2010
AAHSA expresses concern about commission's proposed long-term care cuts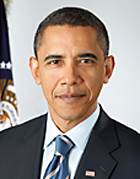 President Barack Obama
A deficit commission's recommendations to cut Medicaid long-term care funding prompted push-back Wednesday from Larry Minnix, president and CEO of the American Association of Homes and Services for the Aging.
"We congratulate the National Commission for Fiscal Responsibility and Reform for tackling the important issue of our national deficit, but we are concerned about the proposed cuts to Medicare and Medicaid beyond those included in the Affordable Care Act," Minnix said in a statement.
The bipartisan panel was created by an executive order from President Obama in February to find ways to reduce the national deficit. The commission's draft proposal includes measures such as accelerating home health care cuts and putting caps on federal Medicaid spending for long-term care. Other recommendations include placing dual-eligible individuals in Medicaid managed care, increasing nominal Medicaid co-pays, expanding accountable care organizations, bundling payments and other payment reforms. Fourteen of the panel's 18 members must approve the proposal before the president can send it to Congress for action.