May 04, 2016
A warm welcome mat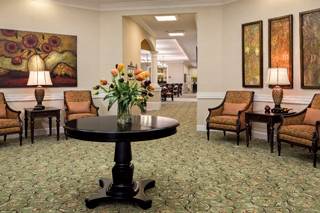 Carpet is regaining popularity among skilled nursing providers for its safety, noise reduction, comfort and home-like aesthetics, industry experts say. Providers are on the hunt for attractive, durabl
When you are the nation's largest memory care provider, you literally don't have to settle for run of the mill when it comes to choosing new flooring materials.
Designers at Brookdale Senior Living stay away from lumber-milled products altogether when it comes to renovating resident rooms. They have bucked trends that swapped out soft textiles for harder, easy-to-clean surfaces and stayed committed to carpeting.
"We've always used carpeting in our memory care communities, and frankly, in much of the same ways as we do in our senior living communities," says Juliet Holt Klinger, senior director of dementia care. "It can help maintain a sense of normalcy."
Improved designs, a new category of products that blur the line between hard and soft flooring and different configurations are bringing many other long-term care facilities back into the carpeting game.
Kristy Yang, senior interior designer at Direct Supply Aptura, says "no carpet" policies in some senior living communities followed negative experiences with the wrong carpet types, incorrect backings or poor installation.
"As the durability, cleanability, pricing and variety of patterns … have increased, carpet is becoming a more popular option again," Yang says. "While hard surface materials are still very popular, they don't offer the comfort under foot that carpet provides, and, if used exclusively, can leave a community feeling a bit sterile."
About three years ago, Brookdale designed its own line of carpets with Shaw Industries. They worked hand in hand to address aesthetic, functional and maintenance issues, creating textiles that foster home-like patterns that don't hinder activity levels of ambulatory dementia patients.
More providers are following suit, knowing that residents and their families expect a hospitality-like feel in even the most high-skilled nursing settings.
"The industry is getting more knowledgeable about how to care for folks with dementia," says Laura Busalacchi, Brookdale's senior director for interior services. "There's an educational component that has to take place. If there's incontinence, it's got to be cleaned up no matter whether it's on a sheet vinyl flooring or a carpet. And from a safety standpoint, carpeting is actually safer for the residents."
Jamie Thorn, LTC sales manager for Forbo, says some who drifted away from carpet found none of the alternatives could provide the same levels of slip-resistance, noise reduction or overall ambiance. Yet concerns remained about staining and longevity in high-traffic, high-spill areas.
Since 2014, Forbo has positioned its Flotex product for senior living use. Thorn describes it as a high-performance carpet, soft to the touch but completely waterproof. The idea is to get designers and budget-conscious administrators to take a second look at what modern textiles offer.
"We've seen a lot of people gravitate toward resilient, but they are having a hard time with the outcome, especially in communities in a recruitment-type situation where the look of the floors is really important," Thorn says.
Flotex and other comparable products are "stable, hygenic, comfortable, quiet and managable solution in care environments," says Rocky Berg, principal and director of business development at three:living architecture in Dallas.
With interior designers "we are always looking for flooring materials that are remeniscently residential in nature but can leverage the contemporary technologies to improve 'creature comfort,' maintenance, sustainability and value," he says.
Better options
Ridley Kinsey, director of healthcare and retail markets for Patcraft, says the consolidation of small chains has helped guide carpet's resurgence.
Larger senior care companies are more likely to have standards that ease the design and cost burdens associated with selecting new flooring. But you don't have to be a Brookdale to find a product that works.
Patcraft, part of Shaw Industries, offers customization for customers who need as little as a few hundred yards.
What's most common, Kinsey says, is to spend money on design at the front of the building and invest in smell and odor prevention and resident protection everywhere else.
"You walk in the door and in the first couple seconds, you're going to form an impression based on sight, sound and smell," he says. "Incontinence is a fact of life in senior living. We're trying to use technology like polymers or cushioning or moisture barriers to solve those problems."
Most carpets benefit from hot-water cleaning, advises Ron Segura, a green cleaning expert who is president of Segura and Associates. Hot water is "somewhat controversial," and he says there are now cold water carpet cleaning solutions that work well.
But "the bottom line is that the hotter water – over 200 degrees [F] – tends to cause the surfactants and emulsifiers in carpet cleaning solutions to work more effectively," he says. "The heat produces the needed energy for the ingredients in the cleaning solution to become more active, helping to loosen soils, so that they can be more successfully removed from the carpet. This is especially true when there are grease-laden or oily soils in the carpet."
The piece for administrators to decide on is what cleaning and carpet mix works best for their facility. Improvements are evident in carpeting but also in the widely popular luxury vinyl tile (LVT). Some have switched to carpet tiles — easily replaced in case of a stain — but modular configurations add moisture-inviting seams.
Like Flotex, J&J Flooring's Kinetex is a quasi-carpet. Winner of a 2015 hard surface Nightingale Award for "contributions to a healing environment," it is cushioned backing thermally fused to a wear layer.
Seeing "the pendulum swing away from soft surfaces" in senior housing and acute care settings, J&J set out to create a product that could provide better safety, acoustics, comfort and maintenance than hard surfaces, says Ross Leonard, corporate vice president of marketing.
He says long-term care clients are typically installing it in activity or therapy rooms, rather than bedrooms.
But Kinetex's unusual composition makes it ideal for any setting with concrete moisture issues, Leonard adds. The material is breathable, with a 99% relative evaporation rate — meaning moisture won't be trapped to grow mold on slab flooring.
Kinetex is now sold in 24x24 or 18x36-inch pieces, but a sheet form is in development. All versions are treated with a moisture-resistant topical that stands up to almost anything except Sharpie markers and motor oil, according to Leonard.
It's also fast-drying, and like Flotex, doesn't require routine stripping or buffing like LVT. That means using fewer costly and potentially hazardous chemicals, and less manual labor.
Two more closely linked selling points for new carpeting products are environmental friendliness and health benefits.
Off-gassing was a major fear in the early 2000s, but most of today's textiles are essentially VOC-free to comply with LEED building guidelines and California air quality standards.
Leonard says tests out of the University of Tulsa also show that carpeting can be better for indoor air quality than hard surfaces because it traps particulates and keeps them down on the ground until they're vacuumed. In a hard-surface setting, particulates settle only to be disturbed and sent airborne again.
Leonard calls it the "Pig Pen effect" after the scruffy "Peanuts" character, a scary characterization given that many seniors struggle with respiratory issues.
Most facilities use a mix of flooring materials even within resident spaces, and Kinsey says strong growth in the LVT market continues. Patcraft is opening a $100 million plant in Northern Georgia dedicated to LVT and planks.
While Kinsey estimates broadloom still holds about 80% of the long-term care carpeting market, roughly two-thirds of his customers have opted for some LVT.
"You can make all sorts of visuals, and you have a good life cycle," he says.
Flotex is a sort of hybrid of LVT and carpet: Its flocked fibers are ultra-dense, without the loops that typically fray or unravel. The cut pile is topically treated so liquids pool on the surface, then require only hot water extraction for cleaning. Flotex comes in wood-look patterns, as well as monolithic designs that won't distract or confuse dementia patients.
Unlike the original LVTs, Flotex has "flex," so it provides more cushioning in case of a resident fall. It also reduces noise between floors and adds shock-absorbing benefit.
At Patcraft, designers have been careful to eliminate glare, another potential issue for memory care patients, especially those who fear falling.
"It appears wet if it's shiny, and they're not going to walk there," Kinsey says. "You want to encourage them to walk around, to interact."
When carpet doesn't fit
Some rooms remain up for grabs.
Dining rooms are tough to carpet because they take a beating from food, liquids and heavy foot traffic. But plank flooring, including some LVT, can be susceptible to water damage if significant wet spills are left to sit long enough.
EarthWerks LVT comes in more than 300 options, with waterproofing that makes it ideal for bedrooms and common spaces, says Lindsey Nisbet, product development manager. LVT varies in durability, depending on its wear layer and thickness.
At the Mount Carmel Personal Care Home in Georgia, the same Flotex has been used for 17 years. The owners were so satisfied, they kept adding it to new spaces, and the fuzzy textile now covers 85% of the floors.
In private bathrooms and shower areas, residents might be barefoot while staff members are wearing shoes. That means two different needs in terms of slip-fall danger and support, says Richard Finnegan, marketing manager for Altro.
The company's Aquarius is a slip-resistant sheet vinyl with stain and slip protection built in; it's pressure-activated so that the embedded slip resistance protrudes only when someone stands on it. It also combines with Altro's Whiterock walls to create an impervious system.
The Aquarius line comes in more than 20 colors; the company's standard LVT is in 54, two-thirds of which are wood-look.
At Brookdale, most memory care residents have 100% solution-dyed nylon in their rooms, in patterns that reduce contrast that can read as barriers.
Carpet is generally seen as cozier and warmer, says Busalacchi, but the 10% to 15% of residents who prefer a wood look can ask for wood-like sheet vinyl.
Altro's designers have worked to sync carpets with resilient surfaces, particularly in the cases of bedroom and bathroom thresholds. A specially designed 3-millimeter trim piece lets a wheelchair roll in and out of a shower without letting water escape.
Little touches can make a big difference even in larger spaces. When transitions between carpet styles or onto resilient flooring are strategic and appropriate for the skill level, most residents can adapt to them within a few months.
"If the carpet specs are correct and appropriate, that shouldn't be a problem," Busalacchi says.