July 06, 2015
A personalized playlist seen as key to longer workouts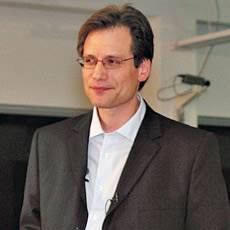 David Alter
Helping residents make a personalized, tempo-based music playlist may help them better stay on track during cardiac rehabilitation, according to a study published in May's Sports Medicine-Open.
Those who had a music playlist tailored to their personal preferences — with tempos matched to their pre-determined walking or running pace — exercised an additional 250 minutes per week, compared to those without any auditory manipulation, according to David Alter, M.D., Ph.D., senior scientist at Toronto Rehabilitation Institute.
Alter's study analyzed 34 cardiac rehabilitation patients from Toronto Rehab. He separated them into three groups: The first exercised without music, the second worked out to a playlist that was tempo-matched and the third had a playlist that consisted of their preferred music genre, with accentuated rhythmic auditory stimulation to enhance the tempo-pace synchronization.
"We calibrated how synchronized the tempo of the song had to be with somebody's pace to be motivating or demotivating," Alter told McKnight's. "We looked at various types of music, and found that if we combined their preferences and matched it to their tempo, we produce evidence."
The study was part of five-year research, but was the first to incorporate rhythmic auditory stimulation technology.