August 02, 2011
A Day in the Life They're speaking her language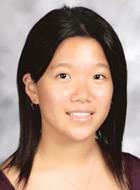 Aileen Jong

Chinese culture values the wisdom and experience of its elderly, but Aileen Jong, a 16-year-old high school student, might very well prove that the reverse is true, too.

As part of a research project, Jong has been teaching Chinese language to residents at Friendship Village, a continuing care retirement community in Schaumburg, IL. Jong, a student at William Fremd High School in nearby Palatine, grew up speaking Mandarin Chinese with her Taiwanese parents and is used to teaching her peers, having been an assistant teacher in her grade school and high school.

Teaching seniors Chinese, a complex language, would be challenging for even experienced instructors. Jong, however, takes it in stride, although she admits to getting the jitters before every class.

"I am astonished at the amount of interest the residents at Friendship Village have shown," Jong said. "It's turned out to be very successful, and the residents have been such quick learners and come back each week with even more enthusiasm."

She says repetition is key for learning Chinese — at any age.

As she juggles membership in the National Honor Society with a full schedule of extracurricular activities, perhaps it's not surprising that Jong wants to pursue medical school. Perhaps becoming a (bilingual) geriatrician is in her future.