December 01, 2011
A Day in the Life: Mindful art connections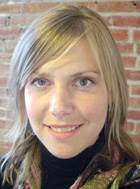 A Day in the Life: Mindful art connections

As Ashley Mask watched her grandfather struggle with Alzheimer's disease, she noticed that as the disease progressed, the more isolated he and his caregiver — Ashley's mother — became. In her role as the manager of visitor experience at the Rubin Museum of Art in New York City, Mask hopes to ease the isolation felt by both dementia patients and their caregivers.

The museum's Mindful Connections program arranges specialized tours of the museum for people with dementia and their caregivers. The museum regularly facilitates group tours for nursing home residents; Mask says plans are in the works to expand Mindful Connections to people who live and/or work in memory care facilities.

Guides allow visitors to touch and hold various pieces of art and work to make the experience as interactive as possible.

"Our collection of Buddhist and Hindu artwork from the Himalayas is well-suited to a contemplative art experience," Mask says. "It lends itself to the kinds of conversations you can have with people in early stages of the disease."

Mask, who also leads tours for patients in more advanced stages of the disease, says she is heartened to hear from caregivers that patients have become more engaged and continued at a higher level well after the tour is over. "That's what we're looking for," she notes.