May 04, 2016
A Day in the Life: March Gladness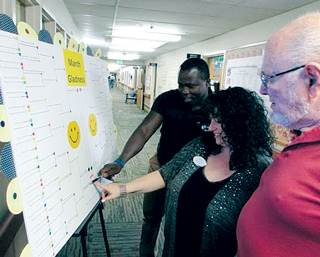 March Gladness
Like many others across the country, the residents and employees of the Good Samaritan Society-Fort Collins Village participated in a bracket-style competition in March.
But unlike those other brackets, the one at Fort Collins Village didn't get "busted" based on the outcome of a basketball game.
This year, the Fort Collins, CO, facility participated in its first-ever "March Gladness" competition. Residents, workers and visitors voted each day on the little things in life that make them happy.
The bracket included things like sunlight shining through trees, speedy service at the DMV, the smell of bacon and watching kids open Christmas presents.
The competition was the brainchild of administrator Fred Pitzl, who said he plans on making March Gladness an annual event after so much positive feedback from residents and families.
"With all the negativity that's out there, with the election season and people pointing fingers at each other ... it's nice to focus on the good things in life," Pitzl says.
The competition also sparked people in the facility to talk about what makes them happy, and what they'd like to see included in future March Gladness brackets.
"The whole point is to get discussion going on the simple things in life," Pitzl says. "It's just for fun, but it's good to get people thinking about things in their own life."