November 01, 2011
A Day in the Life: Learning how to live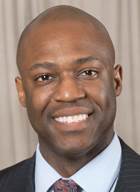 A Day in the Life: Learning how to live

Marvell Adams knew as early as his freshman year in high school that he wanted to work with the elderly. While writing a paper for his biology class he learned that there was no cure for Alzheimer's. That's when he planned for a career in medicine. He later discovered working as an administrator in long-term care facilities was a much better fit.

Adams was instrumental in implementing a program called the Creative Care Neighborhood. It's in the memory care unit of The Living Center, the skilled nursing department at The Highlands at Pittsford, in Pittsford, NY. His role in that project helped earn him the 2011 Thomas Clarke Memorial Award from the New York Association of Homes and Services for the Aging.

Annette Medina-Walpole, M.D., who worked with Adams when she was the medical director at The Living Center, says the award was well deserved, calling the Creative Care Neighborhood "innovative."

"It's truly a unique endeavor that has been both his vision and passion for the past three years," Medina-Walpole says.

Adams says the most rewarding part of his job is getting to know his staff and residents beyond just saying "hi" in the hallway.

"It's hard to find anything in life more rewarding than knowing the diversity of background and history of so many individuals and each day helping them to live their fullest," Adams says.