July 04, 2016
A Day in the Life: Henpecked and happy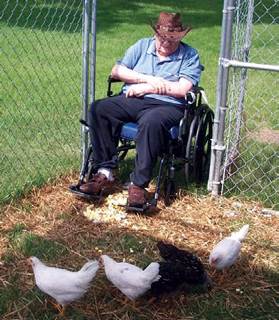 Henpecked and happy
Crestview Acres in Marion, IA, welcomed four new residents this spring, but don't expect to find them inside the facility — they're living in a coop out back.
Activities director Jody Kujath had the idea to bring chickens to the skilled nursing facility after seeing an ad in the paper for an urban chicken class, which teaches how to raise backyard chickens. After taking the class, Kujath and the facility's administrator went through the city council to change an ordinance that allowed only single-family homes to hold a chicken permit.
That ordinance was changed and four hens, known collectively to residents as "The Girls," arrived as chicks in mid-April. They join Crestview's already bustling menagerie of birds, fish and a resident cat.
Resident feedback has been great, Kujath says, with many residents keeping a close eye on the chickens from the windows of their rooms. One resident makes a daily trip out to the coop to feed The Girls popcorn.
"It's pretty exciting," Kujath says. "You can't walk in without somebody asking what the chickens are doing."
Resident Leanne Brooks says watching the hens strut around the coop — and occasionally squabble over food — has been entertaining.
"They'll climb up the coop, they'll sit up there and think they're the queen of the roost."