January 01, 2015
A Day in the Life: Blankets for the brotherhood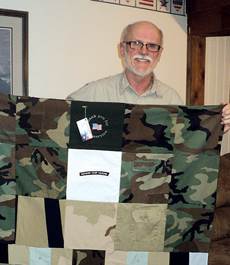 A.E. Casey Hermanson
A World War II soldier's wool coat had hung in a closet since 1948 — until the man's wife brought it to A.E. Casey Hermanson. She knew that Hermanson could give the coat a second life by turning it into a blanket for a veteran in long-term care.
A retired Air Force master sergeant, Hermanson first turned uniforms into blankets for vets going on honor flights to Washington, D.C. But soon he was making them for vets at the Good Samaritan Center, located across the street from his home in Sioux Falls, SD.
Former Activity Director Stacia Klock says it was "a blessing" to receive blankets that appealed to male residents. Hermanson has befriended some residents, noting, "These guys have fascinating stories."
One of his friends is a Korean War POW who will sometimes cross the street to Hermanson's house in his motorized wheelchair.
Hermanson jokes about having a sewing machine in his "man cave." He explains that he comes from a "crafty family" and says he's made blankets for other facilities around town. He plans to send some to western Nebraska, where he went to high school. Uniforms are being donated from all over the country.
"They talk about the brotherhood of the service, and it's something I feel strongly about," he says. "I'm glad I can do this little bit to contribute."