November 01, 2009
A bump in the road: senior housing operators watch the auto industry with interest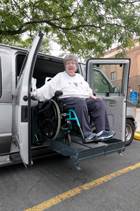 A bump in the road: senior housing operators watch the auto industry with interest

With the future of the American automotive industry still in limbo, many consumers in the market for new vehicles remain cautious about where and how to spend their dollars. A large number of seniors housing operators are among that group.


Consumers, for example, have worried aloud whether a vehicle purchased today will be adequately supported if a manufacturer pauses a product line, or scraps it altogether. Others have wondered whether standard features of the past will become costlier add-ons in an effort to boost revenues – and, at the same time, whether some previously available upgrades and accessories will cease being offered in the future.

While such concerns are understandable, particularly for seniors housing operators who must simultaneously meet their residents' needs and get the most mileage out of their budgets, transportation experts assure providers that, by and large, there's little reason to worry.


"Even with the current difficult conditions the automotive industry is facing, they must continue to meet customer demands with various features and options," noted Sheldon Walle, president and general manager of ElDorado National, a Salina, KS-based manufacturer of small- to mid-size transit buses.

Even more good news is that the current economic downturn could help facilities get more for their money.

"We're at a point now where auto manufacturers are being more [cost] competitive to move more vehicles," said Greg Cook, vice president of sales and marketing for BraunAbility, a division of Winimac, IN-based Braun Corp., which manufactures wheelchair lifts, wheelchair-accessible conversion vans and mobility products. "Now is the time to negotiate."


Demand sustains supply

Overall, the majority of multi-passenger, smaller-chassis vans and buses, which are popular with seniors housing facilities, remain plentiful and in production, experts say. It's a point that some say underscores the strength and continued importance of that product segment with auto manufacturers.


"There's a real demand for the small chassis [vans], in particular. It's an important enough part of the manufacturers' business, so I definitely don't see that going away," said Nick England, president of Lewisville, TX-based Lasseter Bus & Mobility. He noted that Ford manufactures most of the small chassis vans, and that automaker seems to be holding its own.

The volatility with Chrysler, however, is causing some to ponder the future of the Dodge Caravan, which has been a popular choice for low-floor mini-van conversions.


"We offer a low-floor mini-van built on the Dodge Caravan, and, for now, that vehicle is still being built, but there are some [van conversion companies] that are looking for an alternative, just in case," noted England.

On the large-capacity vehicle side, General Motors has discontinued one chassis, but that won't likely have an impact on the vast majority of seniors housing operators, he reasons, because they typically have small- to mid-size vehicles in their fleet.


In the unlikely event that more vehicles are discontinued (and even if an automaker doesn't survive the economic fallout), that still wouldn't necessarily be cause for concern. That's because the increasing demands of the seniors housing and healthcare markets will help keep automakers churning out the chassis, Cook assured.

"There's always going to be a chassis provided by someone," he said. "[Companies] will gravitate to where there's going to be volume and I think the senior market is an area where [that demand] is going to continue to grow."


Parts availability shouldn't be an issue, either. Typically, even when certain models or body styles no longer are made, a reputable manufacturer will continue to make replacement parts available for the established life cycle of the vehicle, according to Walle. If a vehicle has been life-cycle tested for five or seven years, for example, parts will be available for five to seven years. And some parts may be available well beyond that.

"Sometimes, when certain components are no longer available from the original equipment manufacturer, some of the larger [auto] parts warehouses, such as Auto Zone, NAPA, O'Reilly, etc., will obtain the tooling to continue to produce or rebuild and market these parts," Walle added.


Due diligence pays off

Although the availability of vehicle models and accessories aren't largely affected by the current economic downturn and auto industry challenges, that's not to say seniors housing operators in the market for a new vehicle shouldn't exercise some consumer caution.


To help ensure parts and service availability for a longer period of time, sources recommend buying vehicles from a local, authorized dealer, as opposed to over the Internet or in the classifieds. "Frankly, that's how the local business survives," Walle explained.

When it comes to the added bells and whistles, operators should have a clear picture of their community's unique needs to ensure that the vehicles are properly equipped. That may mean foregoing vehicle features that offer little benefit for the community, and investing in features that may cost more initially but save money in the long run.


"No one wants to spend money on something that they'll regret later," stresses England.

There are many different ways to equip a vehicle to maximize its versatility, but it takes time to learn about those options—as well as an experienced representative selling the product to think of the options and present them to the facility, England added.


"It's quite possible that many administrators look at purchasing a vehicle with about as much enthusiasm as they do preparing a tax return or an annual budget," England said. "However, taking the time to buy the vehicle that is best equipped for a set of well defined needs will most likely pay dividends [in the] long-term."

While determining the best vehicle options depends on each provider's unique resident and transportation needs (not to mention, budget), it's worth noting that some accessories may be worth the added expense. An hour meter, which tracks and logs elapsed engine operating time, is one add-on that some believe is worth the minimal investment (they can be purchased for less than $100).


Because some multi-passenger vehicles may sit idle for prolonged periods of time, Walle reasoned that "from a servicing point of view, it is always a good idea to perform service intervals based on hours of operation instead of mileage."

One caveat operators should be aware of, however, is that vehicle operating manuals address service intervals in terms of mileage, not hours of operations. As a result, hour meters could be ignored or misunderstood.

"Having an hour meter to determine when it's time to service a vehicle is far less important than having the right person supervising the timing of service intervals. That person can provide proper oversight with the standard odometer," he said.


Safety, comfort

Other vehicle features operators may want to consider are brightly colored step nosing, handrails and grab handles, and bright interior lighting to help residents safely enter and exit the vehicle. Generally, these are relatively low-cost options—a few hundred dollars, at most, Walle noted.


One possible exception is switching from incandescent to fluorescent interior lighting, which can run several hundred dollars more. Facilities may also want to consider a stain-resistant seat fabric instead of vinyl, which can become slick.

"This will help passengers feel more secure and stable when the vehicle is moving, cornering, etc," he said.
Carefully considered fabrics also can enhance a vehicle's comfort and aesthetics.


"Facilities' vehicles must offer a wide range of safety and comfort features, without sacrificing style and aesthetics," according to Walle. "Suffice to say, function is still the most important [purchasing aspect], but form follows closely behind.

Taking the time to carefully configure resident transport vehicles is among the best ways to maximize the investment in the long haul. Unfortunately, it's a key element that's an afterthought in some facilities, sources acknowledged.

_____

Preparing for the trip

There's no one-size-fits-all approach to picking the right vehicle and accessories—and choosing the wrong ones can be a costly mistake. Appropriately outfitting a resident transport vehicle depends on each facility's unique needs and resident requirements, explained Nick England, president of Lasseter Bus & Mobility, Lewisville, TX.

What follows are some key questions England says every savvy seniors housing operator should ask before making a vehicle purchase. Your answers should affect your purchase.

*Will the vehicle be used exclusively for short, local trips or will there also be the possibility for occasional overnight trips that will require additional space for resident luggage?

*If there's a need for wheelchair accessibility, how many wheelchair users will potentially need to be accommodated at one time?

*How many ambulatory passengers must the vehicle safely and comfortably accommodate?

*When transporting wheelchair-users, will two or more board and get off at the same location, or will they be dropped off and picked up at different locations?

*If there is a significant demand for transporting wheelchair-confined passengers, does the vehicle adequately meet their needs or cater more to ambulatory residents who are out for recreational activities?