October 01, 2010
60 Seconds with...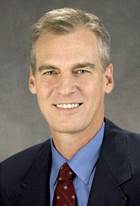 Mark Parkinson, AHCA president and CEO

Q: How does your past as a developer and operator of long-term care facilities come into play?

A: I have always intended to return to the business of caring for our senior citizens with dignity. My wife Stacy, and I share a passion for this cause, and we have been fortunate to make a difference in the lives of thousands of senior citizens and their families.

Q: So you planned to simply become an LTC operator after finishing your term as governor?

A: My intent was to return to that work by building one facility at a time. I was perfectly happy thinking that's what I'd do for the rest of my career. This new job gives me the opportunity to have an impact a thousand times greater.

Q: Is this a good fit?

A: [It's] the perfect job for me. It combines my passion for quality elder care with my public policy experience.

Q: Could your political background undermine your new role?

A: These are indeed challenging times for the healthcare sector. As a dedicated champion of long-term care issues both in the Kansas legislature and as governor, I look forward to working with new and former colleagues in a bipartisan way to offer the best solutions for Americans in our care.