January 01, 2010
60 Seconds with...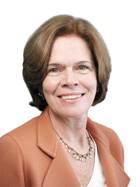 Mary Naylor

Q: The Long-Term Quality Alliance debuts this month. What is it?

A: In a nutshell, it is a membership organization governed by a board of about 30 members who are concerned about improving quality in long-term care. The governing board includes policy makers, health services researchers, purchasers, payers and accreditors. Organization members will have a major role in shaping the agenda of the alliance.

Q: What are the goals of the alliance?

A: We want to promote the use of quality measures that are very much aligned with the experiences of those who receive services and family caregivers. But it is not just about measurement. We have a strong commitment in making accessible state-of-the-art evidence of best practices to advance these measures to achieve high-quality experiences for these individuals. We want to make accessible tools that organizations can use to have these practices come to life.

Q: What's on your agenda?

A: In our initial years, we'll be focusing on how we can improve care transitions as long-term care intersects with acute care. That places peripheral long-term care right in the heart of the way we are thinking of healthcare and quality of life.