December 01, 2009
60 Seconds with...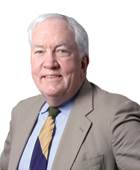 Peter Clendenin

Q: All eyes are on health reform as this goes to press. What is your prediction?

A: I think it's under a 50% chance that reform will get done by the end of the year. That could mean therapy caps go back into full effect Jan. 1 and the physician fee schedule would get a 21% cut.

Q: Only if there's no partial fix, right?

A: I think the doc fix goes forward with some kind of technical adjustment. I also expect the therapy caps exception process would be included with that. We're hoping for maybe a two- to three-month stay of execution for those two items.

Q: Anything flying off the radar?

A: I'm amazed no one's been picking up more on the 110 pages in both the House and Senate bills for new transparency standards for nursing home owners. It's one more very aggressive sort of micromanagement of nursing homes, telling them to shape up. There's a sort of anger in the way it's written. I think it happens even if reform goes into next year.

Q: A shaky time for long-term care?

A: We went through probably a nine- to 10-year period of stability and we're right on the edge of some pretty major budget cuts, and some new transparency rules. It doesn't take much to put this sector into instability.