June 05, 2015
60 Seconds with ... Richard J. Hodes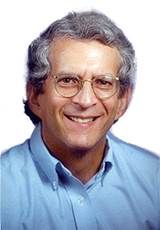 Richard J. Hodes, M.D.
Q: How will the Big Data Portal's launch help ease concerns about Alzheimer's disease?
A: The enormous complexity of the human brain and the processes involved in development and progression of Alzheimer's disease have been major barriers to drug development. Now that we are gathering the data and developing the tools needed to tackle this complexity, this portal will help make them widely accessible to researchers.
Q: How widespread is Alzheimer's?
A: Results of a recent meta-analysis indicate that 35.6 million people lived with dementia worldwide in 2010. The number is expected to double almost every 20 years, to 65.7 million in 2030.
Q: What is the economic impact?
A: Economists have calculated that the costs in 2010 to the nation's healthcare and long-term care systems for care ranged between $159 billion and $215 billion.
Q: How is treatment changing?
A: Old treatments have largely focused on individuals with symptomatic disease. That still continues, but many of our newest clinical trials focus on presymptomatic, at-risk individuals, to include a focus on prevention.