April 02, 2012
$3 billion flowing to divert SNF residents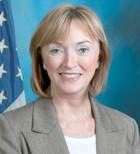 CMS Administrator and Secretary of the Medicare Trustees Marilyn Tavenner

The federal government has turned on the spigot with $3 billion in grant money to help states keep individuals out of long-term care facilities.

New Hampshire is the first to receive a grant under the Affordable Care Act's Balancing Incentive program. Starting the first of this month, the state will receive $26.5 million over three years.

States that spend less than 50% of their total long-term care costs on community-based options will be eligible for the funding. The extra money will come as higher Medicaid matching payments.

"We hope other states will follow New Hampshire's lead in seeking this new grant money to expand community services and supports," said Marilyn Tavenner, the acting administrator of the Centers for Medicare & Medicaid Services.

The national percentage of Medicaid spending on home- and community-based services has more than doubled in 15 years.