August 21, 2013
Kitchen design assistance for facilities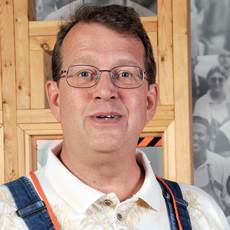 Chris Long
Whether you are just starting out in the long-term care business, building a new facility from the ground-up, or simply swapping out finishes, fixtures and furnishings in existing spaces and units, there are special considerations for catering to your unique clientele.
For instance, you may have residents that include:
those in wheelchairs
ladies and gentlemen who suffer from muscular or skeletal deficiencies or degradation
those who are treating vestibular disorders of vision and balance
those taking other medications that leave them feeling dizzy and unsteady on their feet
folks afflicted with the more commonplace pains of aging like arthritis and ergonomic difficulties.
No matter the specific conditions you need to address, there's a good chance there are products designed with those needs in mind and tailored to solve a multitude of issues, as well as simple-to-implement "extras" that can make all the difference in the comfort of your residents, as well as setting you apart from other long-term care facilities in your area.
So, here's a checklist of sorts for the kitchens in your assisted living facilities and the semi-independent apartments geared toward the senior-plus crowd.
"Dos" for Kitchen Cabinet Doors and Drawers
Of the above options, although they are all "pull" knobs as opposed to twist or turn handles, the best selections for an elder-inhabited kitchen would be the long handle or the lion head with the ring.
*REMODEL TIP: If the kitchen cabinets are already equipped with ring-style cabinet hardware, a simple senior-friendlier update is to loop a rope or piece of thick cord through the ring that can be pulled to open doors and drawers.
Any time you can avoid doorknobs that require someone to fully-enclose the knob in one's hand and/or twist or turn to open the door, do so.
Also good ideas for kitchen cabinets and kitchen cabinet doors:
Make sure the toe kick is wheelchair-friendly: those that are raised to 6" or 8", as opposed to the normal 4", allow room for the few inches the feet are raised off the ground.
Whenever possible, use cabinets that are hung lower (below shoulder height) to allow for reduced range of motion and accommodate those who can't lift their arms over their heads.
At the same time, incorporating slide-out drawers and pull-out cabinets into the kitchen makes accessing items in the rear of the cabinets a breeze, and they clear countertops of clutter that could present inherent risks of its own (hazards/dangerous situations with electrical appliances and cords, etc.).
If you install pull-down shelves in your upper cabinets, be sure nothing heavy or dangerous is stored on them.
For a bright idea in kitchen cabinetry, install under-cabinet lighting. Not only does this give your kitchen that "wow" factor that exudes custom luxury, but it also provides additional lighting to make seeing in the kitchen that much easier.
Kitchen "Extras" and Appliance Additions
Indeed, jobs of all kinds are made easier (and in some instances, simply made possible) when you have the right tools. Equipping your kitchens with the necessities is essential and here are some good options to incorporate if you do not already have them:
Electric can openers: Like doorknobs, items and things that require hand and finger dexterity, strength and/or coordination become impractical for many residing in elder care facilities. A better practice is to swap out items like manual can openers with their electric counterparts.
Area rugs and mats: The first requirement of all floor coverings is that they are non-slip but for kitchens, they should also have beveled edges that will resist curling or catching the toes of a "senior shuffler" who does not or cannot lift his or her feet when walking.
At the same time, floor mats need to provide enough cushioning to ease the strain on the legs and back during periods of prolonged standing but not be so thickly cushioned that they present a trip hazard.
Finally, mats constructed out of durable vinyl or similar materials are easy to wipe clean when those inevitable kitchen spills occur.
Slicing and Dicing "Stations": One way to minimize spills in the kitchen (both of the produce and people variety!) is to provide a seat for sitting down during food prep like chopping vegetables, peeling potatoes, or dicing fruit. Especially for seniors wielding knives and sharp objects, sitting down provides a steadier environment than standing over a countertop or sink.
What other senior-friendly kitchen "upgrades" or standard "extras" do you already have or want to incorporate in your elder care facility?
Chris Long is a store associate at a Home Depot in the Chicago suburbs, where he has been helping customers since 2000.