March 03, 2014
Devices can help injured veterans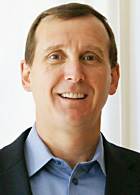 Bruce Baron
Ret. Major General Gale Pollock has seen it all. She has had a military career that spans more than 30 years and includes assignments as Acting Surgeon General of the US Army. There, she was the first woman and the first non-physician to hold that prestigious position. Major General Pollock was also the 22nd Chief of the United States Army Nurse Corps. Recently she joined VoiceFriend as a member of our Board of Advisors.
At her core, Gale is a caregiver and ardent supporter of disabled veterans with visual impairment. Gale related to me between 10% and 13% of injured soldiers returning from Iraq and Afghanistan have suffered an eye injury. Fragments of rocks, shrapnel or fragments often can cause these injuries for those serving overseas.
Pollack has dedicated much of her retired military career to finding services and support for these visually impaired soldiers. That's why VoiceFriend has supported Gale's initiatives by donating VoiceFriend Companion Devices to visually impaired individuals at the Columbia Lighthouse for the Blind in Washington, D.C. The devices can speak daily reminders, such as what is in a car plan, with the push of a butotn.
As we progress in 2014, many individuals look to offer support to those in need. If you are interested in learning more about how you as an individual or your company can support disabled veterans with visual impairment, please contact Gale at galespollock@gmail.com.
I thank you in advance for your support and assistance with these soldiers and heroes among us.
Bruce Baron is the CEO of VoiceFriend, which provides messaging services for eldercare providers and hospitals. Contact VoiceFriend at 781-996-3123 or email sales@voicefriend.net.