May 23, 2016
Advice for nursing homes seeking five stars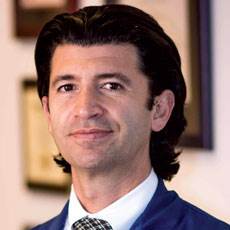 Bardia Anvar, M.D.
Serious concerns about the quality of care in nursing homes had been expressed for decades. Federal officials tasked each state with the responsibility of inspecting skilled nursing facilities to ensure that these provisions were being carried out. Many states adopted their own, more stringent licensing requirements.
To help families find a nursing home and to encourage such facilities to achieve a higher quality of care, the user-friendly star ratings system was developed. This tool was intended to measure their performance in 3 areas: state health inspections, staffing ratios and quality measures. Last year it was amended; you can count on further modifications in the future.
Among the findings made by state inspections that earned the facilities one star were incidence of roach, rodents and other pests invading food storage areas, environmental hazards that could have led to fires or other catastrophes and a failure among staff to follow up on basic care like head injuries and fractures.
Another persistent problem is the growing incidents of pressure ulcer wounds among the elderly and infirm. The federal government is exerting immense pressure on nursing homes to reverse the growing trend. The Centers for Medicare & Medicaid Services has made it a priority to "align and harmonize" quality measures across quality reporting programs and RTI International studied the feasibility of, challenges in, and opportunities for developing a cross-setting pressure ulcer quality measure. For those seeking to improve their standards of care, there are a number of outside services specializing in this area.
One change is that electronic payroll information will determine staffing data rather than relying on self-reporting info. Also, more unannounced, on-site inspections will occur to validate other types of self-reported data – this is in addition to the recertification surveys that are conducted at least every 15 months.
While there is much contention in the industry on the method with which nursing homes earn their stars, there are some key areas that, if embraced, will increase your odds of achieving 5 stars:
Maintaining cleanliness – Not only must the facility maintain an elevated level of cleanliness (that includes no pest/rodent problems, regular housekeeping, etc), but the patients/clients must be tended to.
Taking safety measures – Regular maintenance of the facility itself including inspections of plumbing and electrical, roofing, etc. will ensure patient safety.
Enhanced stafffing -- Have one registered nurse on duty for at least 8 consecutive hours per day, 7 days per week and maintain 24-hour nursing coverage either from an RN or a licensed practical nurse. Some states, however, have established minimum licensing requirements that are linked to the size of nursing homes.
Treating pressure ulcers -- The Centers for Disease Control and Prevention estimates that 10% of nursing home/assisted care residents have or will develop these potentially deadly wounds resulting in 60,000 deaths annually. Regulatory agencies are cracking down on nursing homes that don't deal with them in a timely fashion. While cost of care can be expensive, many nursing homes are contracting with services that specialize in wound prevention and treatment – a far more effective and less costly approach. One such service, Skilled Wound Care, is seeing higher-than-average success rates of treatment with an average of 60% of these wounds being healed right at the onset intervention.
Board-certified general surgeon Bardia Anvar, M.D. is medical director of Skilled Wound Care. For more information about Skilled Wound Care or the college, visit SkilledWoundCare.com or call (866) WOUND-80 or (310) 445-5999.