November 29, 2016
What is the grade of your referral sources?

Martie L. Moore, RN, MAOM, CPHQ
As we move into a new year, data and outcomes are even more important to your performance. How does the performance of your referral sources impact your outcomes? Turns out … a lot.
And if you want to gain a better understanding of a hospital's performance, The Leapfrog Group is a resource to consider checking out. The organization was founded in 2000 by large employers and other purchasers. Leapfrog's goal remains simple — to move the quality and safety of American healthcare forward.
The Leapfrog Hospital Survey collects data, and transparently reports and assigns a grade on individual hospital performance. No hospital wants anything but an "A" and yet many are assigned less than stellar performance grades.
Before examining what is behind the grade, you need to know that there are some hospitals that are not graded. That list includes critical access and federal hospitals, freestanding children's hospitals, and hospital facilities in the state of Maryland.
There are two domains examined to make up hospital scoring: 1) Process/Structural and 2) Outcome Measures. Each domain represents 50% of the Leapfrog Hospital Safety Grade.
The following outlines the areas that are evaluated and utilized for the scoring process: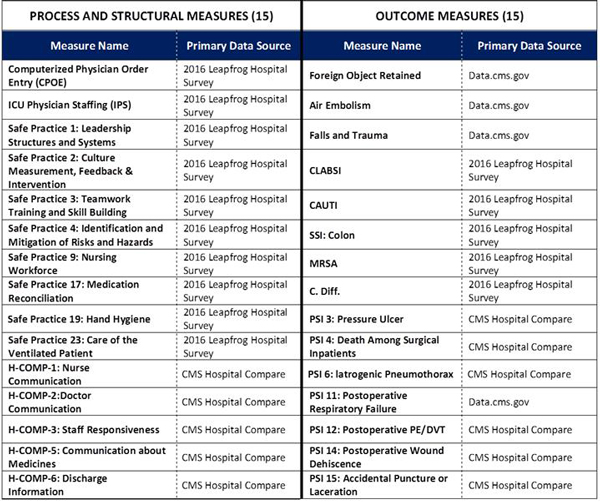 The Leapfrog Hospital Safety Grade methodology has been peer reviewed and published in the Journal of Patient Safety. The Safety Grade can tell you about commitment to decreasing infectious diseases, culture of safety and ultimately, patient safety.
What does that mean to you? The grade gives you valuable insight into areas your referral sources are working on and needing partners in to serve the community. You play an important role in the delivery of healthcare.
For further information and to see your area referral hospitals scores go to www.HospitalSafetyGrade.org.
Martie Moore, RN, MAOM, CPHQ is the chief nursing officer at Medline Industries Inc. and a corporate advisory council member for the National Pressure Ulcer Advisory Panel.