March 05, 2013
Sorting out the antipsychotic quality measures
A full-page ad in the Boston Globe warns readers about the overuse of antipsychotics in one specific nursing home. In 2012, the paper ran multiple stories on this topic. Meanwhile, CMS introduced a new initiative to improve behavioral health and reduce the use of antipsychotic medication in nursing home residents.
The facts above make it clear that safely reducing the use of off-label antipsychotics has been a major national focus for nursing homes. However, confusion exists regarding the three available CMS antipsychotic measures that track use of these medications. Specifically, there are two measures publicly reported on Nursing Home Compare. These have different descriptions and resident condition exclusions from the long-stay measure reported in the Surveyor Quality Measures found in the CASPER system.
Which Measure is Telling You What?
Since July of 2012, two antipsychotic measures were included Nursing Home Compare (NHC): a short-stay measure that reports the percentage of these residents who are started on an antipsychotic medication during the nursing home stay, and a long-stay measure that reports the percentage of these residents who are receiving psychoactive (antipsychotic) drugs. Neither measure is currently in the Casper report, which has led to the confusion on the part of nursing home providers. Both of these measures use only three resident conditions as exclusions for triggering the measure: Schizophrenia, Tourette's syndrome and Huntington's disease. The Surveyor Quality Measure, found in Casper, refers to the percentage of long-stay residents who are receiving psychoactive drugs (antipsychotic medications) but do not have evidence of psychotic or related conditions in the target period. With this measure, seven different resident conditions are applied as exclusions: Schizophrenia, Psychotic disorder, Manic depression (bipolar disorder), Tourette's Syndrome, Huntington's disease, hallucinations, and delusions. The Surveyor measure exclusions relates to CMS' State Operations Manual (Appendix PP) and the cited recognized use of antipsychotics in nursing facilities. Less exclusions in the NHC measure allows residents to trigger who may be receiving the medication even with a FDA approved indication.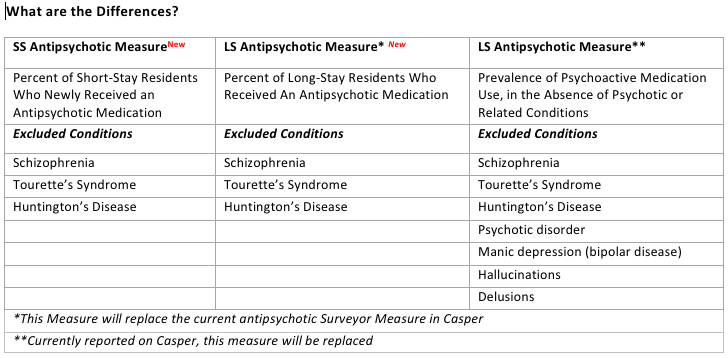 Day-to-Day Practice
The MDS 3.0 Quality Measures User's Manual (v6.0) states that the long-stay antipsychotic measure as reported on Nursing Home Compare will replace the current antipsychotic measure in the CASPER reports, most likely sometime in the Spring of 2013. Since these QMs exclude fewer residents, your first indication of this replacement will likely be an increase in your rates as reported by Casper.
Ultimately, the overall message is to carefully and thoroughly examine all antipsychotic medication use even in those with symptoms that meet the approved indications of antipsychotic medication use. With this in mind, the focus of the nursing home should be a deliberate review of:
The resident's behavior symptoms and their possible cause


Is there a potential for harm to self or to others?
Non-pharmacologic options that may mitigate the symptoms


Have the resident's life-long habits been assessed with care plan interventions?
Comprehensive and individualized behavioral and dementia programming that helps to prevent or lessen the development of symptoms


Several levels of programming and activities are necessary in order to accommodate varying cognitive impairment


Staffing patterns and unit structure that allow for thorough understanding of the resident


Consistent assignment
Principles of person-centered care
By asking the right questions, your facility can make progress on reducing unnecessary antipsychotics and improve resident care.
Steven Littlehale is a gerontological clinical nurse specialist, and EVP and chief clinical officer at PointRight Inc.