May 10, 2017
McKnight's Excellence in Technology Awards back for 2017, now accepting entries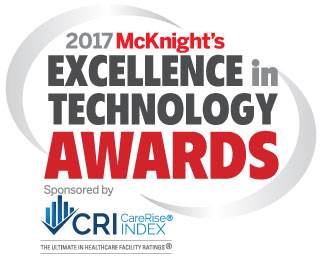 2017 McKnight's Excellence in Technology Awards
The 2017 McKnight's Excellence in Technology awards are back, and now accepting submissions from long-term and senior care providers on leveraging technology to improve their communities.
Gold, Silver and Bronze awards will be given to winners across five categories: Quality Through Technology, Dignity Through Technology, High Tech/High Touch, Innovator of the Year and Transitions. Past winners have included facilities that are using robotic animals, interactive memory care software and telehealth initiatives.
"This one-of-a-kind event recognizes providers who are harnessing technology to improve eldercare," McKnight's Editorial Director John O'Connor said. "There's no better way for your organization to get the recognition it deserves for technology-related efforts."
CareRise INDEX is serving as the exclusive sponsor of the awards.
To learn more about fifth edition of the awards and to download an entry kit, visit www.mcknightsawards.com. Submissions are due by the end of the day on Friday, July 14; winners will be announced this fall.