May 29, 2012
Thursdays with Walter
Elizabeth Newman, McKnight's Senior Editor

Walter the goldendoodle is like Norm on the old TV show "Cheers." When he walks into Alden North Shore Nursing and Rehabilitation and Health Care Center, everyone knows, and often calls, his name.

Many nursing homes have embraced therapy dogs, as they see the positive impact on residents. A recent report indicates more senior living facilities are letting residents move in with their pets.

Around 95% of residents at Alden are there for short-stay rehabilitation, which can be emotionally and physically grueling. But they light up when Walter, a therapy dog escorted by Home Instead Senior Care's Michael Melinger, walks into the room.

Beatrice Sills, an 81-year-old resident recovering at Alden from a fall, murmured to Walter, "I'm going to steal you and take you home!" To her therapy assistant she could be heard growling, "Get your paws off me!" but to Walter, she was nothing but love.

"He's such a sweet animal," Sills said, as Walter's tail thumped. The assistant, Magda Kanczuga, says the golden retriever/poodle mix helps residents with pain management and makes them more upbeat about rehabilitation.

"He motivates them to do something extra," she said.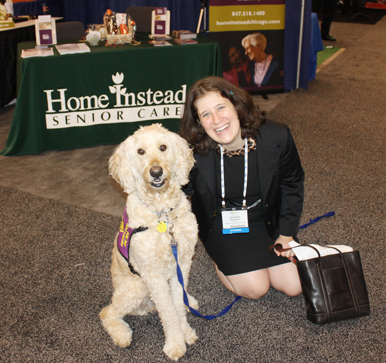 Walter's a hit not only with the residents, but also the staff. Physical therapy assistant Lydia Schapira says that while she loves all dogs, there's no one like Walter.
"He gives love back," she says. "The residents are asking us, 'When is Walter coming back?'"
Alden not only allows therapy dogs, but also allows visits from family pets, as long as they are leashed and well-behaved, said Jennifer Illarde, administrator at Skokie, IL-based Alden North Shore. The facility used to have "puppy day," with the help of a local pet store that has since closed. Puppies would come to improve their socialization; there also was a permanent rescue ferret that died after many years of service.
"Animals and kids really brighten the residents' day," Illarde says.
Melinger and Walter went through a certification process for Walter to become an official therapy dog. To earn the right to wear the purple vest, Walter had to be able to demonstrate that he can ignore treats until given permission, put his head on a resident's lap, and ignore other animals.
In addition to bimonthly Alden North Shore trips, Melinger and Walter regularly visit an adult day care and some assisted living facilities, in Chicago's northern suburbs. Walter is also a hit at trade shows. I first met him in May at the Life Services Network conference in Chicago, where I promptly lost all sense of stoic professionalism and squealed, "Dog!"
While Walter is docile, albeit protective, at home it's clear to Melinger that his dog wants to work.
"He loves this. He craves human contact," Melinger says as Walter greets a resident wearing oxygen. With a beatific doggy smile, Walter looks up at her.
"Oh, you're as handsome as ever," she says to him. "You can be my boyfriend anytime."
More photos of Walter can be seen here.