February 12, 2015
The love story of Boris, Pumba and nursing home residents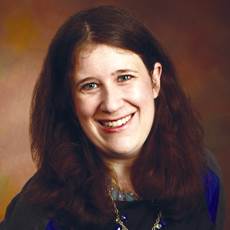 Elizabeth Newman
It's hard to follow the love story around Rusty the dog, which we ran last Valentine's Day for our faithful readers. But I thought it was worth trying with the story of Boris and Pumba, who have gone whole hog in their commitment to long-term care.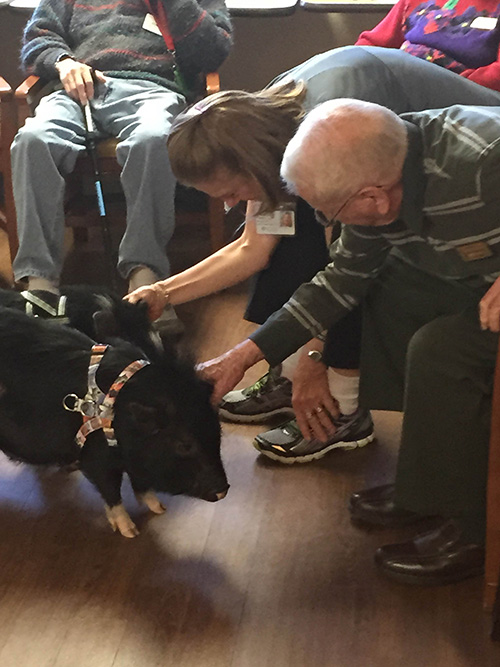 Erin Brinkley-Burgardt, who lives in Denver, has wanted to have a pig since she was a child, she says. Two years ago, she got her wish, and is now the owner of Pippy, Boris (a play on the word "boar") and Pumba (Lion King, obviously). Shortly after acquiring Pippy, an employee at nearby Highline Place reached out to her to see if Brinkley-Burgardt and the pigs would be interested in the pet therapy program, volunteering with dementia residents.
Brinkley-Burgardt was at first wary, but found that dementia residents responded — cautiously — to the animals. A high school classmate, Chelsea Beck, started following Brinkley-Burgardt's pig photos on Instagram. Beck then reached out to reconnect and invite owner and pigs to visit the Intermissions Program at Wind Crest, an Erickson Retirement community in Highlands Ranch, CO. The program, which Beck oversees, is for people on the dementia spectrum.
Beck notes how often the disease can cause isolation. While dogs or familiar animals are of value to these residents, the pigs are a help in that they provide a challenge in a safe environment, she says.
"The cool thing about the pigs is that it's a new experience," she adds. "It's a lot of education. We learn all of these things about pigs."
One time Beck told a resident, "I'm going to tell your wife you want a pig." The resident, who speaks very little, notably responded with, "I don't want a pig; I want two."
In honor of Valentine's Day, I asked both women how they felt about Boris, one year and under 50 pounds, and Pumba, 9 months old and 40 pounds. (Pippy, now 85 pounds, is likely to stay retired as Brinkley-Burgardt notes it's hard to load her in and out of a car.)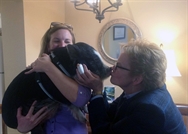 "They are loved," Beck says firmly. "When the pigs are on campus, the executive team comes down to see them. We have them all over our campus because everyone loves to see them." (The director of human resources, Kolette Nelson, is pictured at left kissing Boris.)
Brinkley-Burgardt notes the pigs, which are very smart, are also "incredibly affectionate animals." They particularly love tummy scratches, she notes.
"They're herd animals so they form really strong bonds. When my husband and I are at home, they want to be right there on my lap. They love to snuggle and are very sweet," she explains.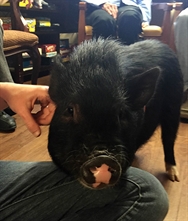 Ultimately, she said she'd like to see if they can help autistic children.
Boris and Pumba are reminders of how dementia residents can still experience joy, Beck, the program director, says.
"The relationship between a resident with dementia and an animal is kind of the most basic of love," she adds.
Another way to look at it is in the words of spider Charlotte, who said, "You're my friend, Wilbur. That in itself is a tremendous thing."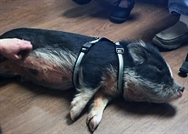 Consciously or not, we spend a lot of time defining love by tradition and convention. It was an unconventional choice for Highline and Wind Crest to invite the animals to hang out with dementia residents. But it's a great reminder that the need for love, affection and light scratching never goes away, whether you are pig or person. No matter who or what you're spending it with, have a happy Valentine's Day.
Elizabeth Newman is the sentimental Senior Editor of McKnight's. Follow her @TigerELN.