July 14, 2010
The assisted living-plus model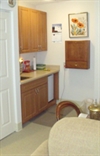 [Photo: A new apartment at Renaissance Gardens at Riderwood]
Long-term care facilities around the country are working to enhance the appeal of their units. Renaissance Gardens at Riderwood in Silver Spring is one of them.
The extended care community has de-licensed 65 of its 114 skilled nursing rooms and transformed them into one-bedroom and two-bedroom apartments.
The new apartments, which are called Assisted Living Premium and Assisted Living Plus, offer assisted living care with skilled services, explained John Mann, administrator of Renaissance Gardens, which is part of the Riderwood continuing care community in Silver Spring, MD. Assisted Living Premium is designed for residents who are able to direct their day but may need more care because of a life-altering event such as a stroke. Assisted Living Plus is for those with memory loss.
"Those residents historically would have been cared for in skilled nursing," Mann said. "They now can live in these Premium and Plus neighborhoods."
He notes that there are limits to how much skilled care he can deliver to these residents. If a resident needs a feeding tube or treatment for a Stage IV pressure ulcer, a visiting licensed nurse has to come in to administer this care—much like you'd see in a home-care environment, he noted.
Still other skilled-type services, such as extensive assistance with activities of daily living, catheter care and IV therapy for short periods of time "are fair game in an assisted living environment," he said. De-licensing these units allows for a more flexible care model, he added. Staffing is based on the needs of the resident.
Consumer feedback
The decision to create apartments is the result of opinions from about 100 residents and families, Mann explained. While they liked the private rooms in skilled nursing, they wanted apartment-style living and larger residences. They preferred full baths, not half-baths, he said, along with kitchenettes.
"We have this 24-7 dining initiative, but they also wanted to know they had their own refrigerator to go to any time of day," Mann said.
In case you were wondering how expensive these units are, Mann noted that because they are licensed as assisted living, the costs are lower. Instead of paying $9,000 a month as they would for skilled nursing, residents are paying $6,500 per month. The price includes visiting nurse services.
A different staffing model
To accommodate these particular residents, Renaissance Gardens has carved out a special role for its frontline workers. Known as household associates, these blended workers are cross-trained in duties beyond being nurse aide care, Mann said. They receive education and leadership to care for residents with dementia, to lead activities and are trained in ServSafe food handling.
The staffing ratio of blended worker to resident is 1:5 or 1:6, which is higher than the community's other assisted living residences, Mann said. There is also a registered nurse available 24 hours a day everyday, he said. Among 420 employees at Renaissance Gardens, 45 are blended workers.
Dignified living

This decision to create skilled living-type apartments pushes the culture change/homelike trend further. To be able to live in an apartment with some skilled services offers a level of independence and dignity that most skilled nursing-type environments cannot offer. (It also shows the extent to which assisted living is serving more acute-care residents.)
But replicating it in other settings may be a little tricky. It's worth noting that Riderwood, formerly an Erickson Retirement Community, is for residents who can pay privately. (There is a benevolent care fund for assisted living residents who move in and deplete their resources, Mann said. Some skilled residents are also on Medicaid.)
Still, whenever a long-term care community decides to improve the standard of living for its residents, it works to raise the bar for all long-term care communities.