March 07, 2017
Multi-generational mixer builds great collegian-CCRC resident bonds

Emily Mongan
We're a week into March, which means before long, much of the nation's attention will turn to college basketball. Last year, we told you about one provider tapping into March Madness with March Gladness, a feel-good bracket competition focusing on the things that make their residents and staff members happy.
This year I've come across another provider's college-focused program that, while not directly linked to the NCAA tournament, kicked off over a shared love of basketball.
The partnership between The Terraces at San Joaquin Gardens in Fresno, CA, and Fresno State University started about three years ago with the Senior Dog Squad, a group of residents who join the college's cheer team to perform cheers at basketball and football games throughout the year. From there, a group students and representatives from both the CCRC and the college set up a monthly brainstorming meeting to think of new ways residents can get involved with the school.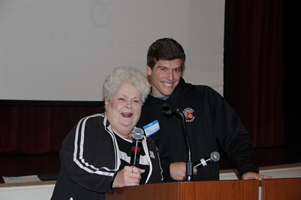 "A year ago, we put together a mentor program where we had residents give a list of what they did for a living, and we tried to match them with students to have a mentor program based on careers" explained Diana Sherwood, lifestyle director for The Terraces. "It was lovely. As we came back together, we thought we would approach it in a different way this year, on more of a friendship level."
That meeting concluded with the idea for a mixer between residents and students from Fresno State's Smittcamp Family Honors College, held on Feb. 17. Nearly 60 students and more than 60 residents gathered and played a bingo match game with questions to spark discussions about where attendees were born, what they did for their first date, and what kind of music they liked.
"The young people were so excited to come that they'd run up to you, introduce themselves and say, 'Oh I need to ask you this,'" said Gloria Kunz, a Terraces resident who attended the event. "Now you have a group of people who are probably the age of [residents'] grandchildren, or their great-grandchildren, and they're excited to talk to you."
Students and residents who "matched" during the bingo game could exchange business cards with their information if they wanted to keep in touch once the event was over. And by the looks of it, many matches were made that night, according to Kunz.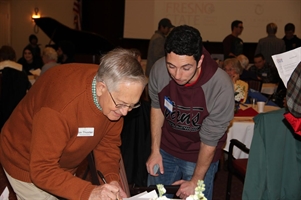 "The little gal that I was talking to used to play backgammon with her grandfather, and she has never found anybody who can play backgammon," Kunz said. "Well I like backgammon, so next weekend she's coming and we're playing."
Kunz, a former English teacher, also connected with a student over a love of Shakespeare. Another resident who made his living as a farmer matched with a student majoring in agriculture. In Kunz's mind, the partnership between The Terraces and Fresno State works so well because it brings together two groups of people at unique stages of their lives.
"The reality of the situation is that both groups are in the same situation … it's the only time in life I think when you are surrounded by people your own age," Kunz said. "That's where the commonality comes. So much comradery was created by the whole event."
Many of the residents also attended or taught at Fresno State, further strengthening the bond between the residents and the students, Sherwood said.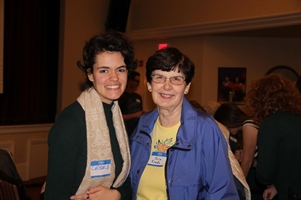 The event was praised as a success by both the residents and students, and plans are already in the works to keep the partnership going. For facilities looking to tap into the resources their local college or university can offer, Sherwood suggests reaching out and finding a liason at the school, someone who can serve as the providers' voice on campus and help connect residents with activities like tours or guest lectures.
"We're now talking about having musicals together, some drama events together," Sherwood said. "So many young adults had a great time, and are so willing to come back and build on that intergenerational relationship."
Emily Mongan is Staff Writer at McKnight's. Follow her @emmongan.