July 06, 2018
Life lessons from the Capital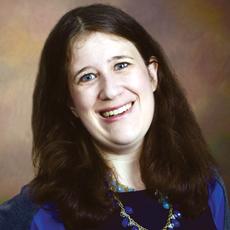 Elizabeth Newman
Reflect for a moment, please, on your first job. The people you met, the lessons you learned, and how it influences you today.
I've met many in the long-term care field who smile (and sometimes grimace) as they remember their first jobs in this field as a certified nursing assistant, a dietary aide or a housekeeper.
For me, I was lucky enough to begin my career as a journalist at Capital-Gazette newspapers, first at the Maryland Gazette and then the Capital. Last week's shootings of five staff members at the latter was so horrific and beyond comprehension that I'm still trying to find the right words to express my thoughts.
I've been gone long enough that I did not have the pleasure of knowing sales associate Rebecca Smith or working under assistant editor Rob Hiaasen, although many of my friends and coworkers did and spoke highly of Hiassen's mentorship and guidance. I only casually knew but deeply respected John MacNamara, a legendary sportswriter, and Gerald Fischman, the quick-witted editorial writer, both of whom spent the bulk of their careers in service to the Capital.
Wendi Winters, well. Everyone knew Wendi. Inevitably, if someone was excited that I worked at the Capital, it was either because they had delivered papers in their youth or had talked to Wendi at some point. Through her decades at the Capital, she was a columnist, prolific writer and an editor. I have a far better appreciation now than I did then of how Wendi's work — whether it was writing "Teen of the Week," her own column or "Home of the Week" — was what mattered to readers.
I've hesitated to write about the shootings because I've been away from the Capital and Maryland for a long time. There's a hierarchy of grief, and I am many steps below the devastated loved ones of those murdered and my former colleagues, many of whom are working non-stop to cover the story.
But I wanted to speak genuinely about the Capital and what it means to the community, hoping that you will see yourself and your facilities reflected. The newspaper was, then and now, filled with staff members who believe in the paper's mission, a place where people met their spouses and where, somewhat to my surprise, lifelong friendships were formed. In short, it's a family. I know many of you may be able to relate.
The work has never been easy. The hours at a community newspaper are long, the pay is minimal and every mistake is on a very public stage. I cried on average once a week. (I was a very sensitive 23-year-old journalist.) But the mentorship that I received, including tough love and red-line edits, is something that I carry with me to this day.
And to that end, I have two small requests.
One, support your local community newspaper. That may mean a buying subscription, or simply by being polite and helpful when a journalist calls you. Many people around the country also have sent food or cards to both Capital staff and their own local journalists.
As my former editor Rick Hutzell eloquently wrote this week, "We will continue to honor our dead. But we also will remember those who remain. They were journalists. And so are we."
Two, never forget how those staff members starting their first jobs with you are going to be looking for guidance, whether they're conscious of it or not. There's rarely a week that goes by when, as a McKnight's editor, I don't think about something I learned from a Capital editor. As an administrator or executive, when you take time to guide less experienced staff and invest in them — that's your legacy.
These acts of kindness, big and small, are a way to keep alive the memories of Rob, Wendi, Gerald, John and Rebecca.
Follow Senior Editor Elizabeth Newman @TigerELN.