August 23, 2011
High-stakes deal just warming up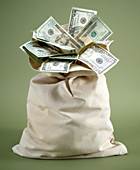 Federal healthcare spending will reach $4.6 trillion by 2020, report finds
So this is what it comes to when No. 1 attempts to buy No. 2. This could be some pretty lively theater by the time the final curtain drops.
In case your eyes haven't already been other parts of the McKnight's website today, here's what I'm referring to: Omnicare, THE biggest pharmacy services company serving long-term care facilities today by far, put out a notice Tuesday morning saying that it wants to buy the nation's second-biggest such company.
It seems that company, PharMerica, doesn't want to be bought. Well, maybe. Actually, all signs are that the PharMerica does want to be bought.
Speculation in trading circles put the No. 2 looking for a suitable buyer back to at least this spring. Various closed-door meetings among bankers and other investor types actually led the Securities and Exchange Commission to inquire as to what the heck was influencing the company's valuations. Many knew something had to be brewing.
Then, it comes out Tuesday that PharMerica (No. 2) had in fact actually approached Omnicare (No. 1) about possibly making the purchase — according to Omnicare CEO John Figueroa. The Big O twice made bids in private, but it did not get the answer it wanted either time.
So that brought us to Tuesday's blockbuster announcement: Omnicare blared that it was trying to buy PharMerica for $15 per share, or more than $700 million overall. "Let's talk," the Big O seemed to plead with puppy eyes. But it added in Rottweiler-like overtones: Play ball with us or we'll try to turn the court of public — or at least shareholder — opinion against you.
It took a few hours, but the stalked came out with a statement of its own mid-Tuesday: The purchase offer wasn't enough and wasn't in PharMerica stockholders' best interest. The company's financial and legal advisors — note the order — were "unanimous" in their disapproval.
Peeling back the rest of the PharMerica statement tells insecurity about a host of issues: regulatory, lack of clarity on how to get past antitrust issues, potentially lengthy court proceedings, high risk. And — bam! — no "assurances of Omnicare's ability to complete a transaction on a timely basis or at all."
PharMerica CEO Gregory S. Weishars adds in the next paragraph that the proposal is "highly conditional and risky." Nonetheless, he is duly open to "all opportunities to maximize value." If only Omnicare would be more willing to assume "the considerable risk with respect to its ability to close a transaction in a timely manner."
Those words — directed at a would-be buyer holding nothing but bags full of cash — swirl inward toward only one sentiment: Show us the money — a lot more money.