October 22, 2014
Glen Campbell Alzheimer's documentary brings out the stars — caregivers and celebrities alike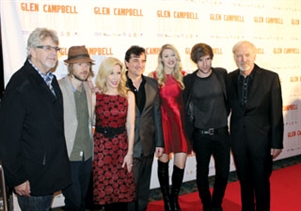 As readers of this blog may recall, my expectations for the special screening of the new documentary about music superstar Glen Campbell's journey with Alzheimer's disease were high. Sunday night's star-studded showing and concert were to be unlike anything long-term care professionals had experienced before. And they were.
The screening, a unique LeadingAge-public venture, brought more than 4,100 people to a cavernous ballroom at Nashville's Music City Center, a turnout that amazed even Hollywood veterans. (By LeadingAge comparison, past convention performances by Jay Leno, Bill Cosby, Dana Carvey and other Hollywood A-listers in recent years mustered little more than half that.)
The movie, "Glen Campbell: I'll Be Me," is a roller-coaster of emotions that doesn't disappoint. (See the trailer here.) You'll want — and need — to see it for yourself, but know that it is a beautiful portrayal of one of the folksiest, most talented performers you'll ever find in any genre. Campbell, a multiple Grammy Award winner across pop
and country music categories for decades, shows flashes of his musical and vocal brilliance throughout, even as the disease brings inevitable mood swings and confusion during a compellingly filmed farewell tour.
Already called a contender for an Academy Award nomination, it could be just the kind of vehicle that changes the course of discussion about Alzheimer's care and research in America.
"Hopefully, what Magic Johnson did for AIDS, Glen does for Alzheimer's," Executive Producer and Director James Keach told the crowd after the showing.
He then announced the launch of the I'll Be Me Alzheimer's Foundation. Its goals are ambitious: to deliver support to caregivers, raise research funding, and put on concerts and celebrity events for those in need.
Numerous celebrities appear in the movie, which tracks Campbell's gradual slide during a 151-concert tour that ended in November 2012. All marvel at Campbell's guitar picking, singing and banter, and many — Bruce Springsteen, Brad Paisley and Kathy Mattea, to name just a few — share connections about relatives who have had Alzheimer's.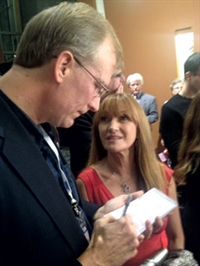 Count Hollywood star Jane Seymour ("Dr. Quinn, Medicine Woman") among the latter group. Although Seymour is executive producer and does not appear on screen, the co-founder of the Open Hearts Foundation told me and McKnight's Executive Editor John O'Connor at the red-carpet reception that Alzheimer's has struck her family firsthand. An uncle died from Alzheimer's complications and his wife suffered as his sole caregiver "long before."
"I have huge admiration for professional caregivers," she told us. "Caregiving is the most important thing. Doctors go about what they do and walk away. Nurses keep you sane."
Sounding like prime brochure material for care providers everywhere, she added, "There comes a point when you're no help to anyone if you try all the caregiving by yourself. It comes to a point for your own safety and their safety, you need help."
Moments earlier, after facing an array of television cameras and photographers' flashes, Campbell's wife and their three grown children, who appear extensively in the documentary and performed with him on tour, spoke gratefully of the care he now receives. The 78-year-old resides at an undisclosed Nashville-area memory care community, where his movements are halting and he no longer talks.
Yet his habitual warmth and instinctive social skills still find him grabbing fellow residents' hands and charming them with soothing gestures, said Kim, his wife of 32 years whom he typically no longer recognizes.
"He seems more peaceful than at home," Kim said. "He's less agitated and safer, and he enjoys the community aspect of it. Glen is always reaching out to people."
One of his sons, Shannon Campbell, said finally placing his father in a facility was eye-opening.
"I didn't realize how necessary it was for his safety, where he couldn't wander out," the 29-year-old guitar player said. "It's had a good effect."
Kim said she didn't realize just how terrible the caregiving strain had been until she spent a couple of nights without it. Glen moved to the memory care facility in April, according to reports.
"He feels comfort there, and they have special programs to enhance the quality of life," Kim told us. "It feels like an extension of home. I don't feel like we're 'putting him away.' He's cared for by people who are like a part of our family, and he gets medical care 24-7."
Keach, the producer and director, thought the documentary project would take about five and a half weeks. Instead, it lasted two and a half years. His crew shot 1,300 hours of film, which was ultimately culled to about 104 minutes. It includes compelling examinations by doctors, who try to explain to Campbell what's going on. Near the start of the film, however, he is already showing severe lack of memory, nonetheless lucidly rationalizing how he doesn't need to know facts such as what year it is or who the first president of the United States was.
Not until the very end does he lose his hilarious wit, Donald Duck impersonation or ability to reel off one-liners. His keen musical ability helps stave off some of the decline, one doctor explains. Repeatedly, the Rhinestone Cowboy pulls potentially embarrassing or ruinous on-stage situations out of the fire. The drama rises and falls repeatedly until it's deemed that the agitation and disorientation, which have been gradually revealed, create too much risk to allow him to continue to perform.
Now, the family and producers are hoping the film, which officially opens in select theaters on Thursday, will perform the service that Campbell no longer can in person. Certain segments of it, such as when he performs a mind-bending "Dueling Banjos" duet with daughter Ashley despite just showing signs of confusion on stage, are liable to bring movie crowds to their feet — or tears.
"This is 'Rocky' with a guitar," says Keach, the producer/director. "He was told by the world to hang up his guitar and he said, 'I ain't done yet' and he was going to show it for all the gnarly truth."
It's a taut, hopeful truth worth seeing for yourself. Hopefully, it will be followed by action from the masses and progress toward a cure.
(For a professional photo gallery of key players and performers from the red-carpet event and concert Sunday, click here.)
James M. Berklan is McKnight's Editor. Follow him @LTCEditorsDesk.