July 03, 2014
Celebrating new citizens, all around us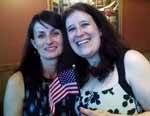 Zu and Elizabeth Newman
The Fourth of July is not a holiday that I tend to think much about. Fireworks are pretty, but when set off in the alley behind my house both terrify the cats and make us fear that our garage is going to get set on fire. Flags, "The Star-Spangled Banner" and barbeque are all fine, but nothing that sets my heart aflame.
That changed, slightly, after having the opportunity to attend the U.S. District Court for the District of Kansas' Naturalization Proceedings on June 27, where I watched my sister-in-law, Zuzana, join close to 100 other people in taking the U.S. Oath of Allegiance. If it doesn't bring a tear to your eye to hear the "America the Beautiful" sung to people about to embark on their journey as citizens, you have a harder heart than me.
What was also gratifying to see is how many of the new citizens work in healthcare in Kansas, as they were introduced by name, country of origin, job and place of employment. There was at least one physician, a few students, and several certified nursing assistants who worked at a nursing home. Countries of origin ranged from Cuba to India to New Zealand and Mexico, and to the Czech Republic, where Zu is from.
Becoming a citizen is a process that is in no way easy: Candidates have to study a citizenship test book that included questions on everything from the longest river in the U.S., to the names of state representatives, to how democracy in America is structured. (You can see the test preparation booklet here.)
To talk about the American Dream has long bordered on cliché, and at some point I am as guilty as any other liberal as thinking excessive patriotism is a stone's throw away from xenophobia. But these new citizens made me remember how many come here seeking a better life. It reminded me that I believe being a good citizen means voting, helping your neighbors, embracing education, and defending people's rights of freedom of speech, religion, and political beliefs, even if you disagree.
This was at times vexing this week, given some of the vitriol on social media around the Hobby Lobby victory. But being American means I can vehemently disagree with the high court's decision and want to hug Ruth Bader Ginsburg for her dissent, while other people can think the ruling sets our country back on a better course.
What I hope we can all agree on, however, is the need to recognize long-term care's new citizens, whether it's by congratulating them, decorating their office with American flags or thanking them for their hard work both in your community and while studying those questions.
And for anyone reading this who is new, including Zu, please accept my warm wishes in now being an official part of this amazing country. Being an American confers serious rights, many responsibilities, and a unified belief this week that Tim Howard is the best thing this country has ever produced. You're going to love it.
Elizabeth Newman is Senior Editor at McKnight's Long-Term Care News. Follow her @TigerELN.