June 29, 2010
About those Sunrise bonuses ...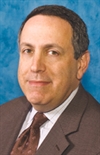 [Photo: Mark Ordan, CEO of Sunrise]
A recent move by the board at Sunrise Senior Living Inc. may prompt some questioning from those in long-term care.
Sunrise, the country's largest assisted living operator, said in a recent government filing that it would make bonus payments to its top executives.
Specifically, CEO Mark Ordan will receive $325,000, while Chief Financial Officer Julie Pangelinan and Chief Investment Officer Gregory Neeb will receive $133,333 each, according to a Securities and Exchange Commission filing.
These bonuses represent "33 1/3% of their respective target 2010 annual bonus amounts set forth in their employment agreements," the filing said. The executives remain eligible to receive the balance of their 2010 annual bonuses, provided they meet individual goals established earlier this month.
It is common and customary for companies to reward top officials. But the timing seems suspect here. After all, this is a firm that laid off more than 100 employees this past year, and owes a bundle to its creditors.
Sunrise's compensation committee approved the payments to "recognize the extraordinary work of the company's executive officers during a difficult and uncertain period and the significant progress that has been made on a number of corporate imperatives, including asset dispositions, extensions and restructurings of company debt, cash management and managing core business to budget," the company said in its recent filing.
It would be understandable for people to see such bonus payments as egregious, given the company's dire straits. It lost $16 million in the first quarter. It is still in default on $241 million of debt.
But it also is important to acknowledge that the company's financial situation may be turning around. The firm lost less than it did during the first quarter last year—$18 million. It is also paring down its loan obligations. If a sale of eight of nine facilities in Germany takes effect by August, the company will have reduced its debt significantly.
So how should we treat news that a company that has reduced its workforce, extended expiring credit lines and sold properties is rewarding people at the top?
We could see the bonuses as business as usual. Then again, if the company makes it through the crisis intact, we might view them as a very small price to pay.