December 29, 2015
Optimizing Outcomes With Oral Antiplatelet Therapies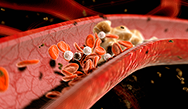 Optimizing Outcomes With Oral Antiplatelet Therapies
In this interactive presentation, Deepak L. Bhatt, MD, MPH, FACC, FAHA, FSCAI, FESC, reviews current guidelines and emerging data on selecting oral antiplatelet therapies, including the optimal duration of dual antiplatelet therapy in selected patients.
This activity is intended for cardiologists, hospitalists, and other clinicians caring for patients who require antiplatelet therapy for secondary prevention of acute coronary syndromes and/or other thrombotic conditions.
Upon completion of this activity, participants should be able to:
Apply guideline-based approaches to antiplatelet therapy for patients who are post acute coronary syndrome
Analyze the risks and benefits of shorter duration of dual antiplatelet therapy in patients post percutaneous coronary intervention
Identify individual patient characteristics that may influence success of dual antiplatelet therapy, such as comorbidities
To take the course,
click here
or go to
mycme.com
.
This course expires Oct. 1, 2016.