October 16, 2013
New Biological Agents for the Management of Refractory Gout - EXPIRED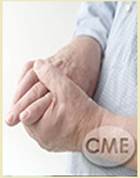 New Biological Agents for the Management of Refractory Gout

PROGRAM DESCRIPTION:
Primary care providers are increasingly called upon to manage gout, a once less common disease that is becoming more prevalent and difficult to treat as our society rapidly ages. Gout is also on the rise and increasingly severe due to the increasing prevalence of obesity as well as animal fats and high fructose corn syrup in the Western diet. This presents a significant clinical challenge considering the traditionally very limited armamentarium of therapies available to clinicians practicing in the primary care setting. Fortunately, this is changing, as new therapeutic options for gout – including refractory gout – have emerged in the past few years. There has also been a rapid recent increase in our understanding of how to use traditional therapies for the treatment of gout in the primary care setting. This educational program will provide up-to-date information on managing gout, with particular emphasis on the use of biologics for refractory gout.
Intended Audience:
This activity is targeted to any primay care provider who treats patients with gout.
ACTIVITY OBJECTIVES:
After participating in this educational activity, participants should be better able to:
— Monitor serum uric acid in order to set and achieve the target levels using all modes of therapies
— Anticipate and manage adverse events associated with aggressive urate-lowering therapy (ULT)
Faculty
Robert L. Wortmann, MD, MACR (Author)Staff Physician, Division of RheumatologyDartmouth Hitchcock Medical Center Professor of Medicine
Dartmouth Medical School
Hanover, New Hampshire

Colleen Cancio, BS
Program Director
Fortis Spectrum


Washington, DC

To take this course, go to mycme.com. The log-in information for myCME is the same as McKnight's. Please note that you will need to complete additional registration information.