October 01, 2013
Motivational Interviewing in Chronic Disease Management including T2DM - EXPIRED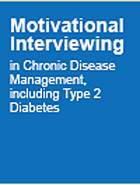 Motivational Interviewing in Chronic Disease Management including T2DM
PROGRAM DESCRIPTION:
"Why don't patients just do what we say?!!" Motivational Interviewing is a clinical method for helping people to resolve ambivalence and make successful behavior change by evoking motivation and commitment. In this voice-over slides interactive course you will acquire specific, tailored skills to have brief and effective interactions with patients. You will learn to recognize patient Change Talk, analyze self-assessed style in barriers to patient behavior change, and give personalized feedback and clinical recommendations in effective manner.
Intended Audience:
This course is open to all healthcare providers and is targeted to primary care providers - Physicians, PAs, NPs, RNs, and Pharmacists.
Instructions:
Directional Information:
For full program information, please click on "BEGIN" button and follow the next click through to reach this program site. Once you get to the "Foundation for Care Management" description page, you will review program information, program content, take the test and receive credit.

If you have any questions relating to the accreditation of this activity, please contact:
Jeanette Dunn, RN, EdD, CNS
Foundation for Care Management
20150 77th Place SW
Vashon, WA 98070
(206) 274-5722
jdunn@FCMcme.org.
To take this course, go to mycme.com. The log-in information for myCME is the same as McKnight's. Please note that you will need to complete additional registration information.